Gordon Haskett Research Advisors studied average menu pricing premiums for 25 popular restaurant brands, which showed the average premium across the sector has increased to approximately 20 percent over the cost of dine-in.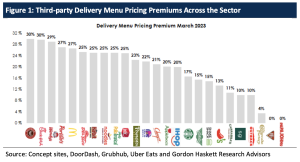 In its "Third-Party Delivery Menu Pricing Premiums: Spring 2023 Edition," the research firm selected three to five menu items at each of the 25 restaurant brands in the study. The goal was comparing in-restaurant prices to third-party delivery pricing through DoorDash, Grubhub and/or Uber Eats to uncover how much restaurants were increasing delivery prices.
The report, led by Gordon Haskett Managing Director Jeff Farmer, showed 23 of the 25 concepts in the analysis had a third-party delivery menu price premium in place, with BJ's Restaurants and Papa John's as the only two that did not charge a premium for delivery.
Across all 25 concepts, the average 3PD pricing premium in March 2023 increased one percentage point to 19 percent compared with September 2022. That 19 percent premium is nearly twice the 10 percent average premium found when Gordon Haskett first ran this analysis in July of 2020.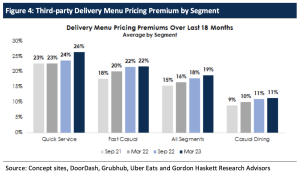 By category, quick-service brands had the largest average pricing premium, at 26 percent, with the fast-casual segment close behind at 22 percent. Casual restaurants most recently ran an 11 percent premium, which was unchanged from the previous study.
Brands with the largest delivery premiums were led by Chipotle and Chick-fil-A, both at 30 percent, closely followed by Wendy's at 29 percent, and Portillo's and McDonald's, which were both at 27 percent.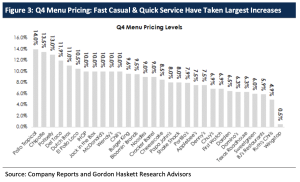 Looking back over previous reports, delivery menu pricing premiums are on the rise in nearly all restaurant segments, with Wendy's increasing its prices the most in the quick-service category, from 18 to 29 percent compared to March 2022. In the casual group, Chili's and Carrabba's led the pack, increasing their premiums from 8 to 13 percent and 8 to 11 percent. Chipotle and Noodles led in the fast-casual segment, increasing from 21 to 30 percent and 20 to 25 percent, respectively.
Highlighting McDonald's, the in-restaurant price for a Big Mac, Quarter Pounder with Cheese and 20-Piece McNuggets is $22.87. The delivery order price, through both DoorDash and Uber Eats for the same three menu items in the same market was $28.97—a 27 percent premium.
Anyone with additional questions about the report can contact Gordon Haskett Research Advisors at sales@gordonhaskett.com.