According to a new report from customer experience and brand research firm Service Management Group (SMG), awareness of delivery is growing while fast-food restaurants in particular are increasing delivery at three to five times faster than the fast-casual and casual-dining segments.
Using SMG's SurveyMini consumer research app that tracks behavioral data linked to real-time customer feedback, its report includes more than 20,000 respondents' answers to what it calls "three big questions about the evolution of third-party delivery."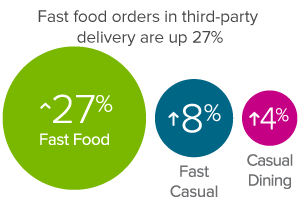 Findings showed that third-party delivery awareness, usage and frequency have increased across the board in the last two years. Overall awareness surged 15 percent, with its numbers indicating that delivery of fast-food meals, in particular, is growing three- to five-times faster than in the fast-casual and casual-dining segments.
Diving into who's actually using third-party delivery services and why, SMG found—no surprise—that millennials had the highest trial and usage rates.
"With the continued growth of third-party delivery and usage spreading across the restaurant industry, it's increasingly important that brands have a cohesive customer experience and case management strategy in place," said Shad Foos, SMG's chief marketing officer. "While each touch point impacts the customer experience, delivery is most likely to make or break the experience."
In terms of who's winning or losing, SMG's respondents said Uber Eats was their preferred delivery partner, but with DoorDash quickly making up ground from the previous year's research. Its users gave Uber Eats 31 percent of the market share—down from 45 percent in 2017—while DoorDash increased its share from 3 percent to 29 percent largely due to restaurant partnerships and its new subscription service.
More information from the study is available at smg.com.