A new consumer survey from SMG, the latest in an ongoing study of trends in the food delivery market, shows native delivery making inroads as 23 percent of U.S. consumers reported ordering food directly from restaurants with their own delivery platforms compared to 24 percent that ordered food through a third-party app during the last three months.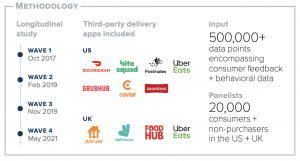 That was just one of seven trends highlighted in SMG's latest report in its long-running study of food delivery, which shows that third-party remains prevalent even as the pandemic pushed more U.S. restaurants to launch their own food delivery programs.
The report's second trend zeroed in on customer loyalty, with consumers showing both higher overall satisfaction and a higher likelihood to order from the same restaurant again when ordering directly from a restaurant's in-house channels compared to third-party platforms like DoorDash, Uber Eats and Grubhub. In the U.S., guest satisfaction was 7 points higher when ordering directly, while likelihood to order from the same restaurant was 8 points higher in direct channels.
As the latest sign that DoorDash is cementing its dominant position in the U.S., SMG's findings showed 48 percent of consumers preferred using DoorDash, citing its responsiveness, accuracy, speed and trustworthiness, ahead of Uber Eats at 27 percent, Grubhub at 19 percent and Postmates at 4 percent. In Europe, Just Eat took the top spot with 53 percent of consumers placing it first, ahead of Uber Eats at 24 percent, Deliveroo at 20 percent and Food Hub at 2 percent.

Problems with delivery orders are on the decline compared to previous studies, but SMG said its numbers showed it "remains shockingly high: in the U.S., 1 in 4 consumers experience a problem when using third-party delivery." That's 7 points higher than when an order is placed directly through a restaurant's in-house ordering channel.
While order accuracy remains the top complaint from consumers using third-party delivery, 19 percent of consumers blame third-party services when items are missing in an order, compared with 27 percent of consumers who blame the restaurant for missing items.
Digging deeper into who customers blame when issues occur, SMG's researchers found consumers blame third-party providers for slow delivery and cold food, which were the two issues having the biggest negative impact on reorder rates.
"When consumers experience a service failure and believe the restaurant is at fault, they're likely to remain loyal to both parties—with over half saying they'd order again from the restaurant and use the same third-party delivery service," the study concluded. "Yet even when consumers think the third-party provider is at fault, the restaurant is impacted: the likelihood consumers will reorder from the restaurant is 10 percentage points lower."
SMG's final trend showed that when consumers have more channels for ordering, they order more, which its research team said disproves the myth of third-party delivery providers are cannibalizing restaurant sales.
"Instead, it increases businesses," the report concluded. "Fifty-eight percent of consumers say third-party delivery services allow them to order food from restaurants more often than they otherwise would."
Putting a finer point on that, more than half of U.S. consumers order four or more times each month from restaurants directly and via third-party apps.
Click here to learn more about SMG's research on the U.S. and international delivery markets.