The exclusive contract between McDonald's and Uber Eats was the biggest deal in the U.S. delivery industry to date, but it's currently being renegotiated in an effort to lower fees for individual deliveries, according to a report from Bloomberg.
Leadership at Chicago-based McDonald's, along with a contingent of the brand's franchisees, reportedly met with Uber Eats and was able to agree upon "significantly reduced commission rates for all U.S. restaurants." The story noted that details of the revised contract are still being finalized, but added that the final result could mean McDonald's uses additional delivery providers like DoorDash and Grubhub.
With Uber looking to go public in the near future, tearing up a contract with the world's largest restaurant system by global sales is sure to have an impact on institutional and armchair investors alike, with many restaurant-watchers citing the previous landmark agreement as a model for other franchised fast-food restaurants to follow.
After signing its exclusive contract with Uber Eats in 2017, McDonald's has continued rolling out modern, easy-to-use self-order kiosks, store remodels and targeted menu changes in an effort to move the brand into a future with a higher percentage of off-premises deliveries and less exposure to growing labor costs. So far, investors have cheered the progress as MCD shares have nearly doubled over the last four years.
Delivery fees via Uber Eats vary between markets, with the nearest McDonald's to our Minneapolis office listing a $3.99 fee accompanied by a note about recently reduced delivery fees and a $2 service charge applied to orders under $10.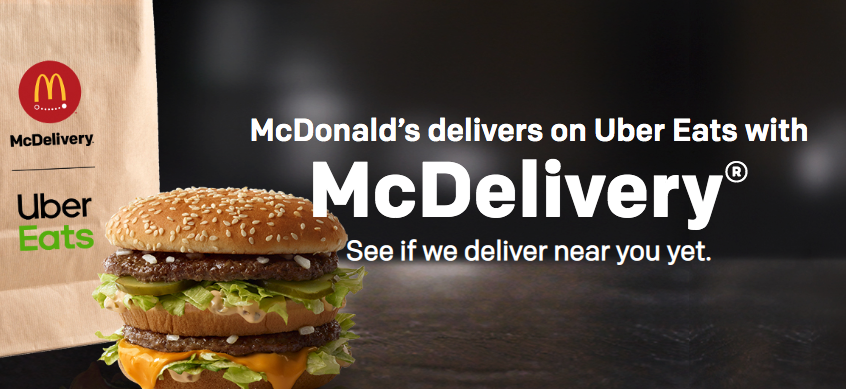 As McDonald's continues modernizing its sprawling operations, it recently acquired technology provider Dynamic Yield in an effort to provide a more "personalized customer experience" with dynamic menu boards showing food options based on the time of day, weather, current restaurant traffic and trending menu items.
In its fourth-quarter earnings report, McDonald's posted 2.3 percent comparable sales growth with a slight decrease in operating income.
"As we begin 2019, we have confidence in our plan and the continued growth opportunities from delivery, Experience of the Future and digital," Easterbrook said.