The chicken-sandwich juggernaut, Chick-fil-A, is rolling out its first virtual restaurant brand.
Details are pretty sparse so far, but the company announced it would launch in Nashville this year and in Atlanta in 2022. The brand will be called Little Blue Menu, referring to Founder S. Truett Cathy's original restaurant. The company noted that restaurant's menu "was continually changing to give customers what they wanted most," read a release about the new brand.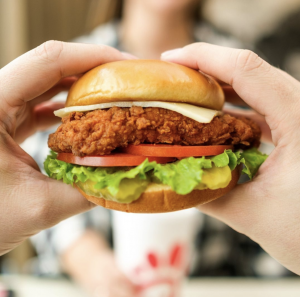 That description suggests that the brand will pivot from one trendy delivery item to the next, a nice operational trick for virtual brands that can change cuisines and branding on a whim. Putting the virtual operation under a new brand is a smart move, as Chick-fil-A can take on that constant evolution without confusing the typical Chick-fil-A customer with new menu items or things not found in traditional locations.
The Little Blue Menu will serve the typical chicken sandwiches, fries and everything else Chick-fil-A is known for along with "a variety of different cuisines—think salads, roasted chicken, wings and more—all made under one roof, arriving in one bundled order," read the release.
The company was among the first major national brands to jump into virtual operations. It has delivery-only locations in both Kitchen United and CloudKitchens as well as DoorDash's Bay Area shared kitchen facility. Clearly, the company has learned a few things since focusing on delivery in 2018, when it launched its own delivery-focused prototype and offering nationwide delivery.
Bundling those classic items with the new items directs the virtual efforts right at the dinner daypart, where delivery surged through the last 15 months. It's a key trait a lot of virtual operators get excited about, cross pollinating with other restaurants in a shared space or offering a bevy of items out of a single kitchen. That avoids the dreaded "veto vote" and makes room for customers to spend more on add-ons. It seems the Little Blue Menu will do the latter and offer a broader menu.
The company said there would be more details this summer, but one thing to watch for will be Sunday operations. Perhaps under the Little Blue Menu brand, customers can get their Chick-fil-A fix on Sunday, too.