After launching its Little Blue Menu virtual restaurant brand in 2021, Chick-fil-A is poised to open a ghost kitchen facility in College Park, Maryland—the fast-casual giant's second multi-tenant facility after its first in Nashville.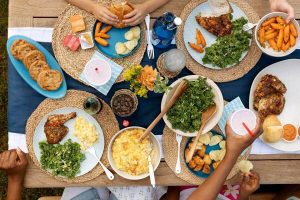 First reported by the Hyattsville Wire, which covers the northern suburbs of Washington, D.C., Chick-fil-A's new ghost kitchen will be located within a former Applebee's restaurant at 7242 Baltimore Avenue. A Chick-fil-A spokesperson confirmed plans to open in College Park, but said work on the location is still in early stages.
The location will reportedly deliver food from Chick-fil-A's Little Blue Menu virtual restaurant, as well as its wider portfolio of virtual brands: Outfox Wings, Flock & Farm, Because, Burger and Garden Day.
The article states that the ghost kitchen will serve customers within a 10-mile radius using hybrid electric vehicles, and will also allow customer pick-up and dine-in with limited outdoor seating.
It's a notable expansion of scope for Chick-fil-A's off-premises efforts after the launch of Little Blue Menu. Last summer, the Atlanta Business Journal reported that the company would be opening a 10,000-square-foot ghost kitchen with eight commercial kitchens in its home city, but the company said it doesn't have plans to open a Little Blue Menu in its home city "at this time."