Virtual Kitchen Co., a San Francisco-based company offering restaurants a network of closely located satellite kitchens to reach takeout and delivery customers with minimal upfront investment, has rebranded itself as All Day Kitchens after announcing a $20 million Series B fundraising round and the debut of its latest location in Chicago.
Founded in 2018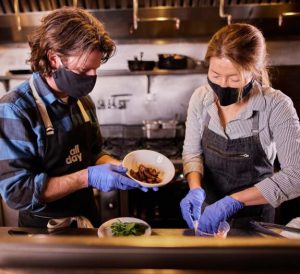 by Ken Chong and Matt Sawchuck, both former Uber executives, the company's latest fundraising round was led by Founders Fund, with participation from DoorDash CEO Tony Xu, Khosla Ventures and Opendoor CEO Eric Wu. Keith Rabois is joining the company's board, and existing investors Andreessen Horowitz and Base10 also invested in this round.
With 10 satellite kitchens up and running throughout the Bay Area, All Day Kitchens has four of its eight Chicago locations up and running, with plans to add additional California locations and expand to Texas in the near future.
CEO Ken Chong said the new name was a result of feedback from some restaurant partners expressing confusion about the previous name, as well as a desire to scale the company with a name that better reflected its future ambitions, as well as one that was more suitable in a consumer-facing environment. It's also a reflection of kitchen lingo capturing the energy of a bustling kitchen and a colloquial term suggesting high availability, like "Kevin Durant hits his shots all day," he added.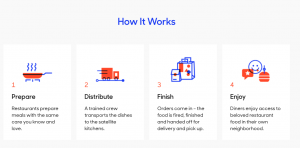 "We realized the [previous] name was good initially when it started, but now we wanted to drive clarity in terms of what we do, our ambitions and where we see our role, the vision of the industry and company for the long term," Chong said. "We're building a distributed restaurant platform with the goal of helping restaurants go distributed … We are trying to offer that turnkey, one-stop shop for expansion and growth."
Stressing that All Day Kitchens is "not the warehouse, tenant-landlord business" like ghost kitchen operators Kitchen United or CloudKitchens, Chong said the company is a more evolved concept that seeks to become a core part of restaurants' growth strategies incorporating the ability to offer delivery in under an hour or 30 minutes.
That ultra-fast delivery is enabled by micro-fulfillment infrastructure that he sees as the next wave following the fast shipping movement via Amazon, Shopify and UPS that has characterized the last decade of e-commerce.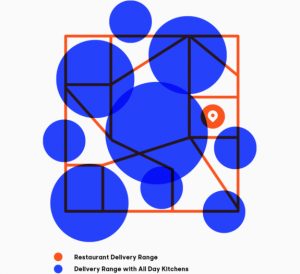 "Micro-fulfillment is going to drive a lot of customer online ordering behavior, so we're always going to be focused on close to customer, fast, fresh, convenient," he added. "We think of space, operations and technology as one, and that sort of purpose-built, vertically integrated mindset has helped us a ton in creating an efficient, scalable and user-friendly platform."
The company uses a data-driven model to determine which markets to enter next, which Chong said also pairs with the team's knowledge of vibrant and exciting food markets, in the case of Chicago, and modeling that helps determine what parts of town are the best fit for delivery and takeout volumes.
"What matters to us the most is being close to customers," he added. "We're not a ghost kitchen and, as a result, we don't go looking for industrial warehouses in the middle of industrial areas … whether it's urban or suburban, whether it's residential or business trade areas, we really just care about bringing great selection to more people."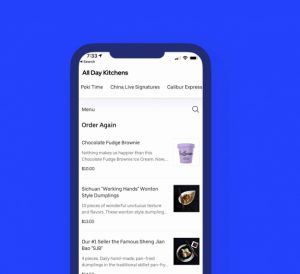 As business districts and society as a whole reopens, Chong said he believes "delivery and takeout with digital ordering" will continue to be what consumers desire going forward, stressing "that's the part that's least developed relative to what consumers want" whether that means stopping to get food while driving, or picking up dinner while walking the dog around the neighborhood.
With the company's headcount approaching 50, Chong believes the industry is "in the nascent stages of what is going to be a trillion-dollar-plus market that's undergoing a massive transformation," which he said includes not only how restaurants can quickly reach customers where they live and work, but also packaged goods, grocery and convenience items, which are also part of All Day Kitchens' plans.
All Day Kitchens also offers culinary consulting services led by a team of chefs from renowned restaurants like Chez Panisse and The French Laundry. The company partners with a mix of local restaurants including independently owned spots such as ROOH, Demera and fast-casual brands including Devil Dawgs, Cheesie's and uncooked.