Preferring the term "neighborhood kitchen" to ghost or virtual kitchen, Miami-based Reef Kitchens is a mixture of both, serving as a delivery-only hub for established restaurants and those that exist purely in online form within third-party delivery apps.
Among the newer entrants into the world of delivery-based cloud kitchens, Reef Kitchens is part of Reef Technology, which after a substantial investment from SoftBank's Vision Fund rebranded in June 2019 from ParkJockey, owner of about 5,000 parking facilities across North America. Those parking lots and garages are what's helping fuel Reef's expansion strategy and part of what prompted fellow Florida brand BurgerFi to sign a license agreement with the company after vetting other ghost kitchen operators such as Kitchen United and CloudKitchens.
"They're big land holders and they have an incredible technology side," said Charlie Guzzetta, chief brand development officer for 125-unit BurgerFi, which will expand via Reef to markets such as Seattle, Nashville, Minneapolis and Houston this year, with additional markets scheduled in 2021. "Plus, they have a solid backing with SoftBank and venture capital money."
BurgerFi, which touts its "Never-Ever" program using beef that's never exposed to steroids, antibiotics, growth hormones chemicals, or additives, began evaluating ghost kitchen opportunities in late 2019 as sales from its online and delivery channels grew. "We saw a major increase in DSP sales," said Guzzetta, in reference to delivery service providers, "and the revenue we've been able to generate.
"Our goal is to be the No. 1 burger in delivery."
Reef Kitchens President Bruce Schroder, himself a former franchise restaurant exec with brands such as Moe's Southwest Grill, Jamba Juice and Taco Bell, broke down the kitchen setup. Reef operates out of "vessels," aka large kitchen trailers stationed at its parking facilities, with each vessel preparing food for four to six brands. The company has master service agreements with national third-party delivery services UberEats, DoorDash, Grubhub and Postmates, and each market has a larger commissary kitchen that undertakes much of the food prep.
"We're able to deploy mobile kitchens on our parking lots," Schroder explained, enabling Reef to target select urban neighborhoods within a given market and get closer to consumers to cut down on drive time. "Our proximity is another advantage."
Nearly 100 vessels are dispersed across 20 major cities, giving restaurants such as BurgerFi, whose locations are primarily in the southeast, a broader reach.
"Seattle, that's a city that we've had our eye on for a long time, but we're on the complete opposite side of the country," said Guzzetta. He added the success of BurgerFi in Reef's markets could help the emerging fast-casual brand determine where it might build new brick and mortar stores or target franchise expansion efforts.
"They have an incredible amount of data," he continued, "and so working with their business intelligence team … we'll be able to stretch our footprint."
Reef's wealth of data, which it gleans from its technology arm and consumers who use its facilities, is also what helps it determine which restaurants to offer on its platform. "We have lots of analytics to determine what consumers in a local market have demand for," said Schroder. "We try to match what the consumer wants with what we put on the platform."
In addition to BurgerFi, Reef Kitchens has licensing agreements with franchises such as I Heart Mac & Cheese and Wow Bao, and recently added Saladworks.
"In this age of social distancing, consumers are leaning on delivery and minimal-contact options now more than ever," said Saladworks CEO Kelly Roddy. "These mobile ecosystems allow us to meet those needs and scale the Saladworks concept quickly, efficiently and for a fraction of the cost, which is a win-win for everybody."
Reef Kitchens also works with independent brands such as David Chang's Fuku and Della Bowls, a local Miami favorite, but several of its concepts exist only on the delivery platforms themselves. Like DoorDash, Grubhub, UberEats and Postmates, which have all made investments in their own virtual restaurant concepts, Reef Kitchens created brands such as Wings & Things, Grady's House of Chicken and American Eclectic Burger that don't have a physical restaurant counterpart.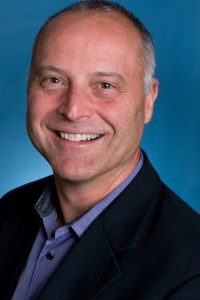 The trend of delivery-only, virtual restaurants was already growing, noted Schroder (pictured), and the COVID-19 pandemic "has really accelerated that trend" as more consumers seek contactless ways to get their meals.
"It eradicated the barriers to trial," said Schroder. "You'd be hard-pressed to find someone who hasn't tried or experienced delivery." He stressed Reef has strengthened its own safety protocols and stepped up the sanitizing of its kitchen vessels. With designated pickup areas, its employees already had minimal contact with delivery drivers.
Beyond its kitchens, Schroder said Reef has big plans for expanding the use of its parking facilities, now even converting several of its lots into COVID-19 testing locations.
"Food is just the first of many uses cases," he said, also naming bike and scooter rental stations, temporary office spaces and retail as possible uses. The broader goal? "To create the ecosystem that cares for your block."