Reef Kitchens, which went from a parking lot owner to a ghost kitchen operator, recently announced a partnership with 800 Degrees Woodfired Pizza to open 500 ghost kitchens for the brand over the next five years. The news comes amid a flurry of partnership announcements for Reef, including agreements to open 700 ghost kitchen locations with Wendy's, 300 with TGI Fridays, and an unspecified number with Del Taco.
The first of the 800 Degrees ghost kitchen locations began operating on September 17 in Miami, according to a press release.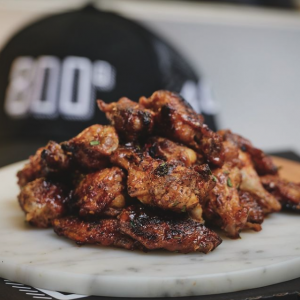 Kenneth Rourke, executive vice president of kitchens and brands at Reef declined to share development details, but said in a written statement that 800 Degrees pizzas would be "served from several Reef locations which include traditional brick and mortar and Reef's well-known delivery restaurants." He indicated that in many cases, the ghost kitchens would operate within existing Reef kitchens alongside other brands.
Rourke also said that "Reef plans to build hundreds of locations by the end of the year."
"We really believe in the ghost kitchen model," said Scott Berkowitz, chief development officer of 800 Degrees. He said the company began focusing on off-premises sales in "late 2016 to early 2017," and that 800 Degrees saw off-premises sales balloon to "15 to 20 percent of sales" in the first year.
With just 16 locations open or in the works, including a delivery-only location in Chicago, 800 Degrees is one of the smaller companies to link up with Reef in recent months. The partnership represents an enormous opportunity to put the 800 Degrees brand in front of new customers.
Berkowitz said that 800 Degrees' international presence, which includes multiple restaurants in Japan and a location in Singapore, helped attract Reef. He said it would be up to Reef to determine where to put the ghost kitchens, but estimated that as many as half of the 500 ghost kitchen locations could be located outside the United States.
For Wendy's, by far the largest of Reef's recent partnerships, Reef represents an opportunity to do business in more urban markets, where the brand is "currently under-penetrated," said CEO Todd Penegor on Wendy's Q2 earnings call. Del Taco indicated a similar plan. A recent press release from the Mexican QSR brand said that the company's Reef partnership will help it access "high-density urban areas."
TGI Fridays deal with Reef builds on the brand's experience leveraging off-premises sales to survive the COVID-19 pandemic, which caused sales at the fast-casual chain fall 80 percent in Q2 2020. Michael Beacham, president of Reef Kitchens, was previously the vice president of international development at Carlson Restaurants Worldwide, a division of Carlson, which owned TGI Fridays between 1975 and 2014.