C3 is doubling down on its partnership to place its virtual brands inside select TGI Fridays kitchens. With more than 700 restaurants in 54 countries, the potential scale for C3's brands like Krispy Rice, Kumi and its newest digital brand, Stonie Bowls, is significant.
The first phase of the TGI Fridays/C3 partnership began in the fall of 2021 in Orange County and Maryland, with C3's flagship brand, Krispy Rice, that's focused on sushi boxes and nigiri. Miami-based C3 said sales have been impressive, nearly doubling from the first week and continuing to grow.
Based on that success, the TGI Fridays leadership team agreed to expand markets and take on two of C3's additional brands, Kumi and Stonie Bowls—at some of its kitchens. Kumi is a Japanese-inspired nori taco and sushi concept, while Stonie Bowls offers rice, salad and poke bowls in partnership with competitive eater and YouTube personality Matt Stonie.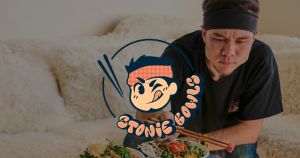 C3 claims the deal will generate up to an additional $1 million per kitchen. The news comes in the wake of C3 hiring Pasha Mehran, formerly Uber Eats' head of dark kitchens, to oversee joint ventures with celebrity chefs, digital creators and ghost kitchen partners with a goal of expanding its footprint with Gen Z and millennial audiences.
An early mover in the virtual restaurant space, C3 has more than 40 culinary brands and has served more than 1.3 million meals during the last 12 months. Some of its other virtual brands include Umami Burger, Sam's Crispy Chicken, EllaMia, Cicci di Carne, Cindy Lou's Cookies, Soom Soom Fresh Mediterranean, El Pollo Verde, Plant Nation and Sa'Moto.
The company says its omnichannel approach is exemplified by Stonie Bowls, which is designed to "harness the ordering power of Gen-Z and millennials" in the post-COVID era of third-party ordering.
"As the virtual restaurant industry continues to innovate, we are thrilled to partner with America's favorite restaurant brand TGI Fridays, complementing our virtual restaurant brands with Fridays popularity and scale to provide for added revenue opportunities," said C3 founder and CEO Sam Nazarian. "The sky is the limit with our work together and as we plan to expand our partnership across the country."
Ray Blanchette, CEO of TGI Fridays said, "We look forward to expanding this exciting initiative with Sam and C3. This partnership allows us to react to changing consumer interests, provide more menu choices and a fun guest experience at TGI Fridays".
Rohit Manocha, the co-founder of TriArtisan, TGI Fridays parent company, said, "The partnership between TGI Fridays and C3 is a win for all sides. Through partnership we are driving added revenue streams, while at the same time providing our guests with innovative and diverse experiences and meal options."
The expanded TGI Fridays and C3 markets include:
Union City, CA
Ladera, CA
Porter Ranch, CA
Cerritos, CA
Corona, CA
Riverside, CA
South Gate, CA
Iselin/Woodbridge, NY
Watchung, NJ
Wayne Town Center, NJ
Cherry Hill, NJ
North Brunswick, NJ
Hamilton, NJ
Linden, NJ