As it grows in leaps in bounds via mega-partnerships, Reef wants the restaurant industry to imagine a future beyond the next quarterly earnings report. Inside its crystal ball, Reef sees you watching a cooking show where the chef is making an Italian feast, which spurs you to make a few taps on your phone and, then, in as little as 10 minutes, that same meal arrives at your front door.
Reef Chief Creative Officer Alan Philips says these "magical hospitality experiences" aren't a factor of more delivery drivers or faster vehicles. Instead, they can be made real by an incredibly complex web of infrastructure that starts with hyper-local real estate, kitchen operations fine-tuned to the micrometer, and integrated technology connecting what consumers are watching or thinking about to what is available for delivery in their local community. And those communities—especially if they're located in an urban area—are fixing to have more culinary choices than ever—partially thanks to Reef's hyper-fast growth that's bringing micro-ghost kitchens to cities throughout North America and Europe.
"The Reef platform allows creative people and brands in the restaurant business to see their world differently, and allows them opportunities to supplement their traditional business," Philips said. "The idea that content is being made by everyone now, and then that content can be turned into some physical product or experience you can have with some level of immediate gratification, is a revolutionary idea."
For the Miami-based company, the revolution began in a parking lot. As a national operator of parking lots primarily in city centers, Reef Kitchens is essentially a super young, agile tech startup grafted onto a large, traditional business that's now expanding so quickly, Philips said "the company sheds its skin every three months or so" to accommodate its meteoric growth rate.
For restaurants partnering to go inside the first Reef facility in town, that might mean working with different people months later, when Reef has expanded to 10 locations in your city seemingly overnight.
"People can't grow as fast as the company is growing, but with that comes incredible opportunities for so many people," Philips added. "The environment inside the company right now is a combination of really hard work, really strong vision and … almost like being on a rocket ship in a way."
Logistics like Amazon
As Reef Technology President Michael Beacham has said in recent interviews, the company already has its shipping container-esque multi-tenant kitchens within 5 minutes of 70 percent of the urban population of the U.S. and Canada. That growth rate is still accelerating with recently announced partnerships to open 700 units with Wendy's, 500 with 800 Degrees Woodfired Pizza, 300 with TGI Fridays and an unspecified number with Del Taco.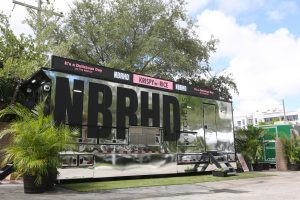 "There's no restaurant company in the world that is dealing with the level of complexity that we're dealing with, and that's why we're also building a one-of-a-kind platform," Philips said. "Each one of these issues you bring up, these challenges, they force us to solve them very similarly to how Amazon would solve a logistics issue."
Through its experience of curating compatible collections of off-premises restaurants together under one roof, Reef has learned that cuisine type isn't a challenge—it's more about determining and servicing the needs of brands that are in very different places of their own growth curves.
"There are certain things a smaller brand needs from us, there's different things that an enterprise brand needs from us in order to succeed," Philips said, using the example of Man vs. Fries, which began as a Bay Area pop-up and, through Reef, has grown to more than 100 units in just a year. At first, the fledgling concept didn't even have a supply chain in place, which Reef assisted the brand in developing. That obviously isn't a concern for partners like Wendy's.
That same concept goes for individual neighborhoods, as Reef's team puts in the work to give each location a brand selection that aligns with its individual characteristics, part of its proprietary "geo score" that evaluates real estate locations to help the company determine what local diners will crave the most—and keep craving.
Compared to the old-school restaurant model, Philips reiterates that if one of six concepts in a given facility aren't performing well, it can be easily swapped out for another that's a better fit for the neighborhood. Should the entire facility not work out, Philips said that the actual box can be moved, which remains a key part of the company's appeal to investors, cementing Reef Kitchen's position as an asset-light business model.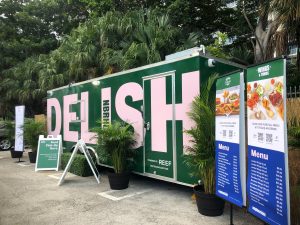 At present, the majority of Reef locations allow for customers to come pick up their meals, rather than strictly relying on delivery. Looking ahead, the company wants to be an important, valuable part of its neighborhoods, with Philips adding that the company would even consider an underutilized brick-and-mortar location for one of its kitchens if it was "in the best interest of our employees, our investors and our community, that's the lens we're looking through."
That said, the company is "firmly" focused on its foundational real estate profile of modular and mobile. In the eventual wake of the pandemic, Philips said he expects cities to reexamine their zoning laws to allow for new and creative use cases that aren't stuck in the past, and so focused on traditional restaurant formats, building designs, and ways that customers used to pick up their food from restaurants and grocery stores.
"We see ourselves as a part of the future urban framework, and how that evolves specifically is continually up for discussion," he said.
With Reef struggling to hire the best people to continue accelerating its expansion—like so many in this era—the company still feels like it's just getting started in terms of signing new partnerships and building additional kitchens.
"I don't see us being anywhere near our capacity for content, because we're building a platform that will have flexibility," Philips adds. "It really has to do with, one, how quickly the macro environment embraces this type of operation and, two, how much talent we're able to access."
Stressing that Reef cooks can make $20 or more per hour, he said the company's ongoing hunt for employees isn't a search for "bodies," but rather for best-in-class talent, "because without them, we're just an idea."