Reached last week, Jacob Webb said sales at his Marco's Pizza restaurants in Utah are up more than 40 percent compared to the same time last year. "It's totally unprecedented," said Webb, who has nine stores in the Salt Lake City market and is also the brand's area representative in the state. "Now is the time to invest. The brand has embraced innovation that will drive results for years to come."
Webb is following his own advice. He recently signed leases for three additional restaurants and as the area rep has three new franchisees also building units, with the goal of having 17 total open by the end of the year. "That's making us the fastest-growing group in Marco's," said Webb, who's been a franchisee for six years.
Across the system, Toledo, Ohio-based Marco's Pizza is benefiting from the inherent appeal of pizza delivery during the pandemic. While it had to make some modifications for contactless service, including adding that option to its online ordering platform, delivery and carryout were already ingrained in Marco's operations—and in consumer behavior.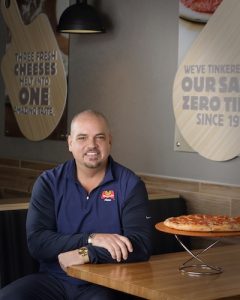 "Most Americans love pizza, so we benefit from that," said Tony Libardi, president and COO of the 900-plus unit chain. Systemwide sales are up 25 percent, he continued, with some markets such as Webb's seeing increases above 40 and even 50 percent. "These have been game changing sales for us. We're not up a little bit, we're up a lot."
Libardi stressed the role Marco's franchisees (the brand is 96 percent franchised) and employees have in this growth as he acknowledged they're putting themselves in harm's way. "We're asking drivers to delivery. We're asking franchisees to stay open," he said. "And if weren't for them, I wouldn't be able to have this conversation at all."
Domino's and Papa John's also both posted sales increases, and MillerPulse, which analyzes restaurant data, noted in its segment report for April that delivery-based pizza chains were up 10.8 percent, versus dine-in pizza restaurants that saw sales drop 32.9 percent.
For its part, Libardi said Marco's quickly pivoted its messaging to focus on value and new safety standards, and it also launched a "delivering memories" advertising campaign that highlighted franchisees' connections to their communities. The challenge now, he continued, is for Marco's to keep driving sales after the COVID-19 crisis is over, with a focus on maintaining community relationships and accelerating the innovation referenced by Webb.
"What does the future of Marco's look like? That's a question we talk about every day," said Libardi.
He expects at least part of that future to lie in virtual kitchens and podular units, both of which the brand is in the initial stages of testing. The brand's first virtual kitchen opened May 4 in a CloudKitchens facility in Hollywood, California, where Libardi said it's one of 22 concepts operating in the delivery-only environment. "We're very encouraged by those early results," he said of the sales Marco's believes to be incremental via third-party delivery. "It's introduced our product and our brand to a whole new set of consumers."
Marco's plans to test drive more virtual kitchens in the coming months with existing franchisees such as Robert Pina, who's also an area representative and has restaurants in Houston and San Antonio. The low start-up cost, which is "about one-fourth the cost of a quote-unquote 'normal Marco's,'" is appealing to franchisees, said Pina, along with the speed to open. It costs between $223,535 and $ 586,410 to open a standard Marco's restaurant. A franchisee duo in Pina's Houston metro market, Alfredo Magana and Reyes Orozco, are set to open a virtual location in late July.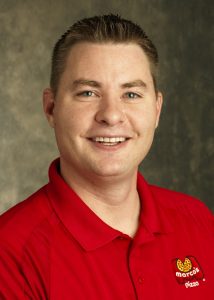 Webb (pictured), meanwhile, volunteered to test the pre-fabricated kitchen pods, created by Las Vegas-based Kitchen Podular, in Utah, where he is in discussions with landlords and property owners to secure a ground lease. Kitchen Podular units are built specifically for takeout, walk-up and delivery service, with no dine-in seating, parts of the business Webb believed will only grow as social distancing becomes standard for consumers.
Plus, he said, because franchisees own the pods, "it's very appealing to add that asset to your balance sheet."
"And if the site doesn't work … you can pick it up, put it on a truck and move it to a different site," Webb continued. "You're really just dealing with the ground lease, so that's another reason it's attractive."
Stepping up investments in automation is another part of the strategy for Marco's. Automated pizza saucers have already been integrated into some kitchens over the past two years, said Libardi, as have automatic dough rollers and cutters. "At a store in Ohio we were able to reduce from eight hours to two the labor it takes to prepare our dough," he noted, and the company is also exploring other "smart kitchen" components.
"We spend millions a year in capital investments in many lanes," said Libardi when asked how much Marco's is setting aside for various technology investments. "And we'll continue to do so."