Whether you're a local growth brand or an established franchise restaurant looking to enter a new market, ghost kitchens and virtual restaurants offer enticing channels to reach new customers and different regions while spending less capital than building new brick-and-mortar locations.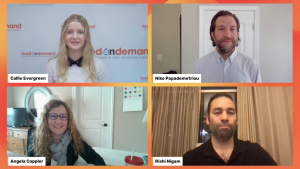 Three experts with different backgrounds talked strategy and using limited resources wisely during Food On Demand virtual event Building Success with Ghost Kitchens & Virtual Restaurants, including Franklin Junction Principal Rishi Nigam, Qu Senior Vice President Niko Papademetriou and Wendy's Senior Director of Non-traditional Development and Strategic Partners Angela Coppler.
Look at all factors. According to Coppler, before jumping in to one of these new channels, brands should ask themselves:
Start with location—what markets do we want to be in? What is it we're trying to achieve in this market?
What does our footprint look like already?
What are the new unit opportunities within a given market, and how do we bring those to life?
Are traditional brick and mortar locations a viable option? If not, a ghost kitchen may be a good opportunity.
"In a lot of cases, it can be through a traditional brick-and-mortar restaurant, an end cap…but in a lot of markets, there's not that opportunity," Coppler said. "Real estate is very cost prohibitive in inner cities, and at times very difficult to find appropriate real estate to support the restaurants. When we think about dark or ghost kitchens, it allows us to bring food to consumers in the way they're looking for it to their home, so it's a completely different asset type for us."
The other factors Wendy's examines is the facility they need to operate in, the menu they're trying to serve and where consumers are demanding delivery to pinpoint exact locations for delivery-only versus brick-and-mortar locations. It then comes back to the economic model, Coppler said, as they look at sales forecasts balanced with fixed costs.
"The dark kitchen model needs to work and be financially viable, and it needs to realize profitability goals," she added.
Nigam and his co-founders set out to create the first digital, matchmaking marketplace that pairs host kitchens with proven-out, (not virtual) brands for growth. So far, they've signed on more than 300 host kitchens—about 145 of which are active—along with about 12 brands in their portfolio. The company's goal is to place an average of three brands in each host kitchen. To ensure the match is a good fit, Franklin Junction looks at about 50 factors.
"We look at the location of the host kitchen and match that up with the demographic in that area and see if there's a demand for the brands we have in our portfolio," Nigam said. "We also look at the competition, what else is available there, not necessarily the type of cuisine but at what price point, how is it rated, what are the flavors there, are they really matching what people want or just serving whatever their typical brand menu is?"
After that, they dig into the operational capability side and analyze the equipment, resources, suppliers and staff the host kitchen has already, and how easily they could easily integrate and implement a new brand into that location.
"We're also looking to bring a novelty, something of, hey, we have something this area has never experienced before, and based on the trends we see in the area, we think these folks would really appreciate it," Nigam added. "It is fun bringing accessibly to Southern and Midwestern and Mid-Atlantic (markets); some suburbs never had access to some of the brands we see in urban and coastal markets, so it's fun to bring them in and see, wow, the demand is actually five times more there than it is in New York City or Miami or D.C."
Learn how to be nimble and tech-forward. Nigam and his team also learned early on that they don't want Franklin Junction to make up or become more than 20 percent of a host kitchen's sales, "to where they start depending on labor for us, start changing the cook line just for us, although those are high-quality problems to have," he said. "Because ultimately, we are an incremental revenue source, and we don't want to take over the entire restaurant and then cause folks to lose focus on why the building was originally there for."
For Papademetriou, he sees companies that weren't well positioned for COVID are falling behind as the world emerges from the impact, since the pandemic accelerated the world "maybe three years forward in six months," he said.
"Companies need to be able to make more impact across more channels from fewer places, maybe even from one place," Papademetriou said, "so these companies that bolted things on quickly in March and April and June and July are now realizing that's unsustainable in the long term—the amount of human capital and manpower they have to put against that to keep it up and running is debilitating, so now there is more demand I think than ever to rip that Band-Aid off, to go in and do open heart surgery and put a new platform at the core of that business so it can be set up for challenges known and unknown of next 15 years in the restaurant sector."
Being nimble and being able to serve your guests anywhere, anytime is what you need in your technology solution, Papademetriou added, "and I think a lot of the questions one should ask when evaluating that new solution aren't the same questions they've been asking for the last 20 years."
For more insight, watch the full webinar here. (The "Ghost and Virtual Growth Strategy" panel begins at the 3:01:21 mark.)