Square, the popular point-of-sale platform for restaurants and retailers, has announced a new On-Demand Delivery service giving merchants the ability to accept and fulfill delivery orders that come through native platforms. As part of this new service's launch, Square has partnered with Postmates, with assurances that additional delivery partners are coming soon.
Wally Sadat, CMO of The Kebab Shop, a local chain of restaurants in California and Texas, has been using Square's On-Demand Delivery during beta testing. "This new feature helped us keep our doors open and continue serving our customers during the recent downturn," he said. "The ability to customize delivery limits and costs to our customers was especially powerful, as it helped us remain competitive at a cost our business can afford."
Compared to more traditional third-party delivery, Square's new program is described as a less-expensive alternative, only using third-party platforms for delivery, rather than order generation, which often results in a lower total fee.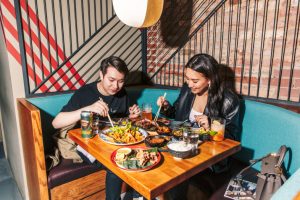 This is how the company described the process in a release: "When an order is placed on the seller's online store, a courier from the restaurant's delivery partner is dispatched to the business location, picks up the order, and delivers it to the buyer. The buyer receives text updates with links to live maps to track delivery progress. Sellers pay a flat fee of $1.50 per order to Square, plus a fee to their delivery partner that is calculated in real-time based on distance and other factors. Sellers can pass this fee entirely to the buyer or offer custom delivery promotions. When applied across hundreds of delivery orders each month, sellers can save a significant amount on per-order costs."
Additionally, merchants receive customer contact information and are able to maintain a sales history for customers included in the Square Customer Directory. The company says this allows sellers to market directly to those customers through its preexisting marketing and loyalty programs.
Kicking off the new service, Square is waiving processing fees for all on-demand delivery orders through July 8—up to an ambitious maximum of $50,000 in sales—and dispatching fees through July 1.