Restaurant merchants on the Square platform can now dispatch DoorDash delivery drivers for orders placed directly on their own websites through DoorDash Drive. This latest announcement comes after Square first announced on-demand delivery this past June. 
Given Square's huge presence in the retail and restaurant worlds, this partnership is notable as the restaurant delivery industry continues merging with the worlds of grocery and retail.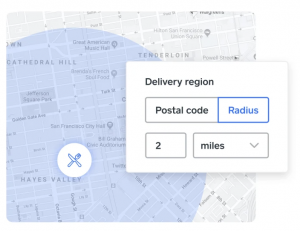 Chris Pastena, the owner of the Chop Bar, a fast-casual restaurant in Oakland, California, has been using on-demand delivery for Square Online and said it helped him stay ahead of the curve in recent months. 
"With the threat of additional shelter-in-place orders looming, it's more important than ever to be flexible and maintain our focus on pickup and delivery to continue serving our customers," Pastena said. 
On-demand delivery allows sellers to own their fulfillment process by offering delivery directly to their customer base from their own website. When an order is placed on a restaurant's Square Online ordering page, a DoorDash Dasher is dispatched to the business location, picks up the order, and delivers it to the buyer. The buyer is able to track their meal every step of the way, with links to live maps that provide real-time details of the courier's progress. 
Sellers pay a flat fee of $1.50 per order to Square, and a flat DoorDash delivery fee. Restaurants can take control of costs by passing a portion of their fees to the buyer or offer custom delivery promotions. 
DoorDash Drive is DoorDash's white label fulfillment platform which allows any restaurant to begin offering delivery through their own channels by tapping into DoorDash's logistics technology and fleet of Dashers. 
"We're so excited to team up with DoorDash," said David Rusenko, head of ecommerce at Square. "We're dedicated to providing restaurants access to the tools they need to thrive, especially during this challenging new business environment, and look forward to partnering with DoorDash to help achieve that goal."