DoorDash is adding the most new restaurants to its platform compared to its competitors, driving significant market share gains for the largest U.S.-based delivery provider, according to a new study from KeyBanc Capital Markets. Now with more than 233,000 restaurants available and 50,000 new restaurants added since February, DoorDash has more restaurants under its umbrella than Grubhub/Seamless and Uber Eats combined.
While all of the surveyed delivery providers are still adding new restaurant options as on-demand delivery continues its shakeup of the global restaurant industry, the overall pace of unique restaurant growth on online platforms grew just 10 percent in the beginning of 2019, which is a sharp slowdown from the 36 percent growth over the same period a year ago. Grubhub added 17,000 new restaurants, and Uber Eats was close behind with 16,000 new restaurants during the period.
In addition, as delivery becomes more ubiquitous, large restaurant chains are becoming an increasingly significant portion of new restaurant growth for delivery providers. This suggests a fundamental shift in the nature–and future growth prospects–for the delivery industry as a whole.
Square Inc.'s Caviar delivery service is also growing, with KeyBanc's study claiming it expanded its footprint by 50 percent, with a higher mix of unique restaurants in California, New York, Pennsylvania and Illinois–four of the states with the most restaurant delivery volume. Postmates was also included in the study, posting 8 percent growth with more than 35,000 total restaurants on the service, strongly weighted toward its home state of California, and distantly trailed by Florida, Washington and Texas.
As large chains continue embracing third-party delivery, there are stark differences among some of the most popular brands. Popeyes reportedly grew its delivery presence by 65 percent during the first part of 2019, followed by Subway, McDonald's, Starbucks and Chick-fil-A in the top five of the survey results. Papa John's and Chipotle both grew by only 6 percent, with Burger King declining by approximately 30 percent during the period, which KeyBanc suggested was due to "franchisee unwillingness to participate" in third-party delivery marketplaces.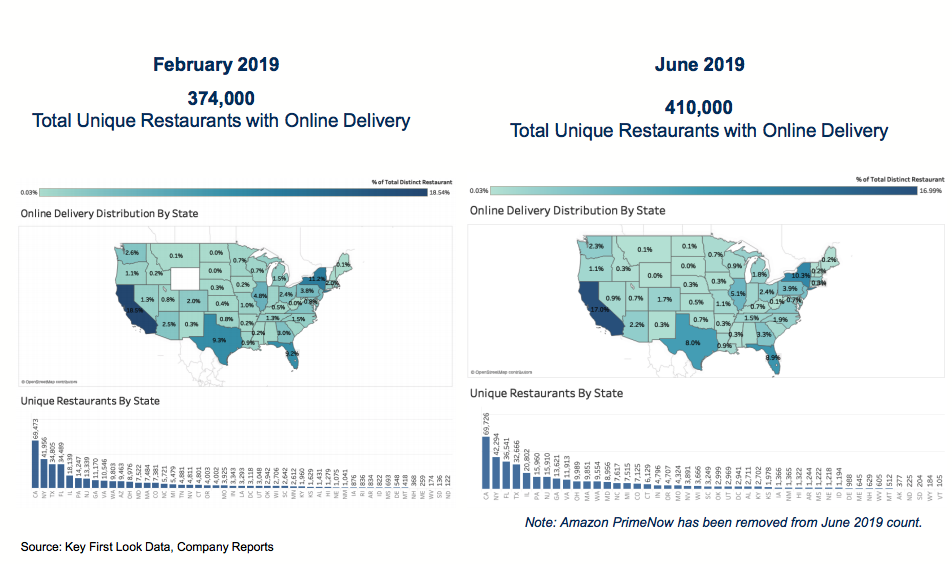 Looking at the United States as a whole, there are approximately 410,000 total unique restaurants with online delivery, compared with 374,000 just five months ago in February. Looking at unique restaurants by state, California, New York, Florida, Texas and Illinois are the leading states, followed by Pennsylvania, New Jersey, Georgia and Virginia as the states hungriest for delivery.