Consumers would rather order delivery directly from a restaurant as opposed to a third-party provider. In its recent trend report, polling 1,525 respondents, DoorDash found 43 percent of its customers prefer to order delivery through a restaurant's website or app, whereas 27 percent prefer to order delivery through a third-party delivery platform, and 16 percent prefer to go to a restaurant in person and wait for pickup.
The foodservice industry has been significantly upended in the last year and food delivery companies saw unprecedented growth. DoorDash's revenue nearly tripled in year-over-year growth, and Grubhub's value jumped 47 percent from $5.9 billion at the end of 2019 to $8.7 billion at the end of 2020. So, it may be a surprise to see trends pointing preference away from third-party delivery.
"The COVID-19 pandemic necessitated consumers staying at home and forgoing in-person dining," DoorDash reports. "Dining behaviors are increasingly shifting toward online ordering and off-premises dining. People are equally as likely to order takeout or pickup meals as they are to cook, followed by ordering for delivery. They're even less likely to eat on-premises at a restaurant than they are to participate in other forms of dining."
For the customers who prefer to order through a restaurant directly, half value online ordering over calling for its convenience, 30 percent choose a restaurant's site over third-party delivery provider for familiarity, and 27 percent thought ordering from a restaurants app or website was more convenient than a third-party app or website.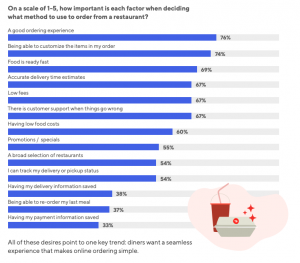 "For restaurants today, building and growing online channels is key," states DoorDash. "Customers want lightning-fast service, convenient ordering and the freedom that comes with multiple options. Online ordering gives diners the ability to customize food to their preferences and get a meal precisely when and where they want it. With both a branded online ordering system on your website, and a presence on third-party delivery apps, your restaurant can reach more customers looking for delivery and pickup options."
When making a decision on how and where to get takeout/delivery customers are equally as likely to go to a preferred restaurant directly as they are to go to a food takeout/delivery app—both rank at 15 percent, while 29 percent of customers choose their restaurant based on proximity.
Consumers have a clear need for efficient and affordable meals catered by restaurants. According to the report, 61 percent of people cook a meal ten times or less each month, and 34 percent cooked five or fewer meals a month. So, it's no surprise takeout reigns supreme this year. Twenty-three percent of customers picked up meals from their favorite restaurant over 10 times in 2020.
Businesses in the U.S. using Storefront see an average of 37 percent more orders per month.