DoorDash's second-annual Restaurant Online Ordering Trends Report shows that volumes are staying strong at the largest U.S. third-party delivery provider. According to the report, 83 percent of consumers are ordering delivery as much or more than they did last year, and even more are ordering takeout more often.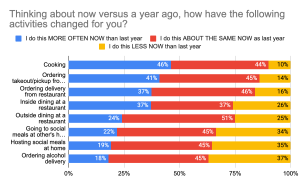 Intended to give restaurants a look at what online ordering customers are gravitating toward, DoorDash's report also included the nugget that fries and American cruising is topping the chart as the most ordered food in the U.S. this year—which likely isn't a surprise to anyone.
By surveying 1,504 delivery customers throughout the last week of March 2022, the report shows same-store pickup orders in the U.S. have increased 15 percent year over year, and same-store delivery orders are up 11 percent over the previous year on the DoorDash app and website.
The report included a handful of other findings related to trending cuisine types, customer ordering behavior and intentions to try something new when ordering delivery or takeout:
Customers are choosing new restaurants and merchants, with 60 percent of respondents ordering from a new-to-them merchant in Q1'22, compared to the merchants they ordered from in Q1'21
Friday at 6 PM remains the most popular time to order delivery and pickup
DoorDash saw a 3X increase in breakfast orders between 5 AM and 10 AM
Only 8 percent of DoorDash users said they never try a new menu item, while 92 percent will often or occasionally try new things
Thirty-seven percent of consumers prefer to order delivery through a third-party platform (up from 27 percent last year), while 38 percent prefer to order delivery directly from the restaurant (down from 43 percent last year)
Consumers choose delivery over pickup for comfort and ease, with half of respondents saying delivery is more convenient, while 40 percent report they are just "not so keen to go out"
Sixty-nine percent of consumers reported that speed at which they receive their food and access to customer service were top deciding factors when deciding whether to order directly from a restaurant or through a third-party service
In addition, when consumers do decide to venture out, pickup is piquing consumer interest as a way to support local businesses while picking up their food on their time (38 percent), saving on fees (26 percent) or just simply wanting to get out of the house (25 percent).
To read more, download DoorDash's Restaurant Online Ordering Trends Report.