There are plenty of reports showing national market share among U.S. delivery providers, but the industry is highly fragmented with some providers far outperforming others in the largest American cities. Grubhub has NYC on lockdown, while DoorDash leads in San Francisco, Dallas and San Antonio. Postmates is far ahead in Los Angeles, with Uber Eats eclipsing the others in Miami.
These findings come from Second Measure, a Bay Area-based technology company that analyzes billions of transactions to glean intelligence in partnership with some of the largest U.S. investment firms.
In aggregate, DoorDash has been growing faster than any other U.S. delivery brands this year, reaching 34 percent of total U.S. meal delivery sales last month. Formerly the leader, Grubhub slipped to second including its Seamless and Eat24 subsidiaries—a combined share of 33 percent.
"Sales at nearly all the delivery companies in our analysis are growing, but DoorDash's growth stands out," the report read. "In June, the company saw a staggering 175-percent year-over-year jump."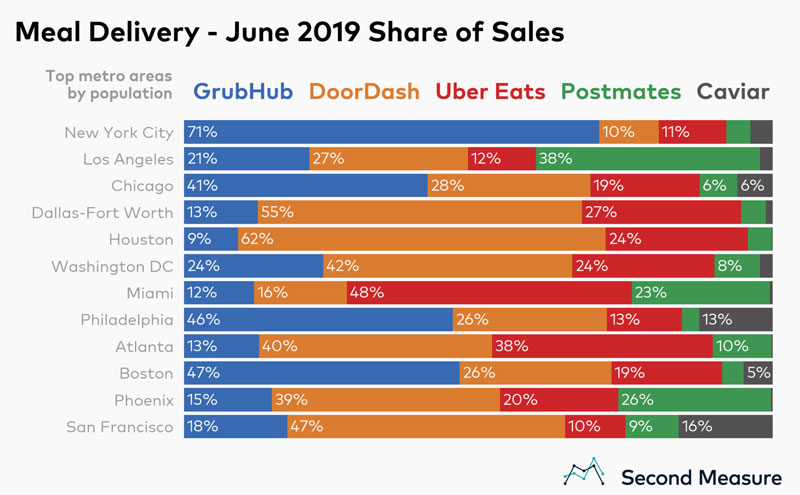 Looking at 12 of the largest U.S. cities, Second Measure shows DoorDash far ahead in Houston, DFW and San Francisco with 62, 55 and 47 percent of the market, respectively. Grub captures 71 percent of the market in New York City, and is on top in Boston and Philadelphia. The Chicago-based provider has 41 percent of the market in its hometown.
Uber Eats, which has a third of the U.S. market, is far and away the leader in Miami with 48 percent of the market. The brand's next highest cities are Atlanta at 38 percent and DFW, where it has 27 percent of the market according to the report.
Postmates is even more provincial with a massive 38 percent of share in LA. Its next largest markets are Phoenix (26 percent) and Miami (23 percent).
Why is this important? With more restaurants using multiple delivery providers, some brands offer better coverage and customer service (for restaurant partners) in different cities. In addition, delivery consumers are highly loyal, using only one or two services on average, meaning that what's best in one city could fall flat in another.