"We think the POS has gone far beyond what it was originally created to do, and if it hasn't, it needs to. As consumers—if you think about it—all you want is to be served food when and where we want it," states Amir Hudda.
Hudda, CEO of point-of-sale tech company Qu and recently inked partner of Mongolian Concepts' virtual brand Stir Fry Chef, knows POS technology and lacks little confidence. Hudda sees POS not just as a piece of technology—a screen with a credit card swiper—but as a series of actions, carried out by people, paid for by technology.
"If you go to a fast-casual or quick-service restaurant, you walk in, you place your order, and the person behind the terminal enters your order and that becomes the POS system…If I'm sitting on the couch at home, my iPad is my POS, if I'm on the run this is my POS." Hudda holds up his phone and smiles at his seemingly slick insight.
Texas-based Mongolian Concepts has created the Stir Fry Chef virtual restaurant to operate out of Genghis Grill locations before they operate independently. Stir Fry Chef is already up and running in 36 locations. But instead of extending their partnership with Punchh—the loyalty system already in use at Genghis Grill restaurant locations—Genghis partnered with Qu as a key part of its virtual restaurant strategy.
"Stir Fry Chef, they selected Qu primarily because of our speed to getting them up and running across thirty-five-plus stores," says Hudda. "They picked us because of the confidence they had in our capabilities to deliver on time. They picked us because of the breadth and depth of the features that we provide by leveraging our native platform. So those are things that we've been able to deliver."
The partnership makes sense, Qu specializes specifically in fast-casual franchises and ghost kitchens. With 36 locations cropping up in the midst of a labor shortage, intuitive and efficient ordering technology is exactly what Stir Fry Chef needs to train up new employees on the job.
KitchenUp, Qu's unified ghost kitchen platform, was as quick to scale up as the ghost kitchens themselves, and Stir Fry Chef was able to launch those 36 locations in eight weeks, as opposed to the industry standard of six months. With that milestone being in the press for the last month, I couldn't keep from asking if there's an updated number.
"Oh," chuckled Genghis Grill's Chief Brand Officer Doug Willmarth, "That was the initial wave, so we're making sure they're all running smoothly right now, but we're working on a 400-location deal at the moment."
The first step, it seems, is equipping each and every Genghis location with a Stir Fry Chef pairing—which is well underway, seeing 36 of the 50 Genghis locations are enlisting in the excitement. Qu asserts it can swim well above the waves even as the 400-unit deal looms in the near future.
Stir Fry Chef has a leg up on a typical ghost kitchen. Because it is a virtual brand of Genghis Grill, the startup costs of bringing Stir Fry Chef into a Genghis location is low. According to Willmarth, it costs less than $1,000 to open a Stir Fry Chef location out of an existing Genghis Grill, the food comes from the same key ingredients and prep labor can be done by Genghis Grill employees without negatively impacting in-store operations.
"Depending on location proximity, you would need to staff that separately," says Willmarth. "There's ways that we could prep someplace else, but you need to cook and package orders on site; if it just so happens that we're operating out of Genghis Grill, [so] we would just use the labor out of there anyway."
Stir Fry Chef, utilizing key components of the Genghis Grill menu, offers a simple, preset menu. They currently feature 12 bowls (including pad thai), three sides and one dessert.
"Every bowl is unique because you built it your own way, that's the Genghis business model. Stir Fry Chef is more like your traditional Asian restaurant where you're like, 'Hey, we have ten dishes to choose from.' We don't allow create-your-own, you choose from the twelve different recipes we've got on site."
An over simplification, maybe, but the target audience for Stir Fry Chef is people intimidated or disinterested in make-your-own-bowl restaurants. Willmarth also claimed Stir Fry Chef would feature healthier options to appeal to a younger audience. Even with all the marketing, planning and preparations, launching a virtual brand in the midst of a national labor crisis hasn't been seamless.
"It [the national labor shortage] affects us like any other restaurant is affected. We haven't in most cases been able to keep our restaurants fully operating, but there have been a few cases, we have in the past 8 weeks had to take some restaurants and close them Monday nights because we don't have enough team mates to staff the restaurant seven days a week. We can't have a manager working seven days a week."
Mongolian Concepts doesn't report any specific financial compensation to retain their employees. Staff can work overtime, refer friends to join the team, and front- and back-of-house staff are being hired at rapid speed. Hudda believes Qu can alleviate some of these pressures.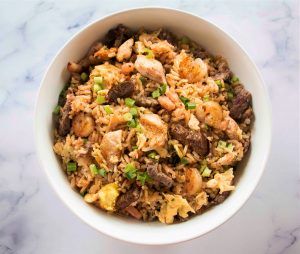 "At times when you have a labor shortage and a high turnover, you need to get people up to speed quickly and being processed through the store in the lines of the drive-thru, it adds significant value to our brands," he added.
While it may be overly optimistic that efficient software will significantly improve employee retention, the onboarding process may be much easier now.
Currently Stir Fry Chef makes up less than 10 percent of sales in each Genghis Grill location. Because Genghis Grill plans labor based on sales trends, they gain this difference in labor from employee productivity.
In times like these, Qu appears to be just what Genghis needs.