Now that meal delivery has expanded far beyond the urban markets that fueled the industry's growth the last decade, some delivery providers are differentiating themselves with a more selective roster of restaurants. First came Slice, which focuses exclusively on pizza restaurants, and now Chowbus, which just received a $33 million investment to bring its curated roster of Asian-only restaurants to new cities in the U.S.
With a pleasing interface similar to other national delivery apps, Chowbus presents users with a list of trending restaurants and individual menu items, restaurants only on Chowbus, and even grocery items from local Asian markets. Menus are available in Mandarin, Cantonese and English, and the hundreds to thousands of restaurant reviews on the platform show that this Chicago-based delivery provider has cultivated an enthusiastic following compared to the DoorDashes and Grubs of the world that are populated by an increasing number of fast-food and franchised brands that take some of the excitement out of the browsing experience.
Chowbus was founded by Linxin Wen, who bootstrapped the company for two years before meeting co-founder Suyu Zhang who is now its chief technology officer. The original concept was bringing underserved Asian restaurants into the delivery fold, while charging lower fees than larger, national delivery providers.
Fresh off an eight-figure investment deal led by Altos Ventures and Left Lane Capital, Chowbus' founders are looking to capitalize on a rapidly expanding delivery market and a fast-growing customer base that grew more than 300 percent year-over-year for the four years before the pandemic. Now, according to Wen, Chowbus is growing more than 700 percent year-over-year with operations in 20 major cities. It's the second multi-million-dollar investment for the brand.
Figuring out which city to enter next sounds like the easy part, with a focus on large cities, college towns, areas with concentrated Asian populations and cities with large numbers of authentic Asian restaurants.
Word of mouth has proven to be the company's best marketing tool, but Chowbus also pays influencers and offers in-app referrals to reward users for spreading the word. Wen said those comparatively low customer acquisition costs are something the company wants to maintain as it expands to new parts of the country.
F or an additional charge, customers are able to order from multiple restaurants for a single order. They also offer a $9.99/month membership with unlimited free delivery, which is used by approximately half of its total customer base.
Pulling up Chowbus in Food On Demand's home city of Minneapolis, I was presented with a massive list of promising restaurants I've never heard of, including nicely illustrated individual items like various hotpots, ramen, meat skewers and Hong Kong noodles, along with slushes, milk teas and other drinks.
The Chowbus app gets 4.4 stars on Google's Play store and customer reviews are generally enthusiastic, although a handful of users reported persistent malfunctions, including restaurant incorrect closing times. I experienced a similar issue trying to order some Korean wings and appetizers from Bonchon. That said, the experience is similar to most other large-scale delivery services with easy navigation and stellar food photography.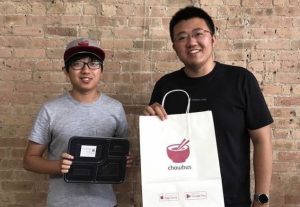 Although he declined to disclose what Chowbus charges restaurants, Wen said he's most proud of its low commission costs, which he said makes the platform a true benefit for restaurants, rather than brands that "want to squeeze every penny out of them." Out of a headquarter's staff of 250 and more than 7,000 drivers in its driver network, Wen said the company has a relatively small sales force, instead relying on word of mouth among Asian restaurateurs in a given market.
"We're building it more like a community service," he added. "More and more restaurants have quit other platforms to be exclusive with us, because they get more orders than any other platforms combined."
Even with some impressive accolades now under his belt, Wen said he still struggles to define success as the company grows, but said building "a respectful company" remains high on his list of priorities. "As long as we stay on that, I'm super happy," he added.
Looking further ahead, Wen said it's possible Chowbus would look at different cuisine categories, but stressed that food delivery "is just the starting point" as he examines grocery and other potential verticals.
Because he's a first-time entrepreneur, he said he's his own biggest challenge with so many things to learn as the company continues to grow and attract outside attention from the delivery industry and investors.
"I've been lucky in the past four years to find someone to coach me and help me—we have a really great time and I really appreciate that," Wen said. "With more resources, it means more responsibility, and I hope we won't forget why we started the company, because as the company grows, there will be some outside pressure to grow faster and try to make more money."