For Chowbus, the delivery startup focused exclusively on Asian restaurants, looking beyond the pandemic means finding creative ways to help its restaurant partners boost in-store dining as it continues upgrading its app experience seven months after raising yet another $30 million.
We covered Chowbus' first eight-figure fundraising round last summer, when it raised $33 million to expand into new cities. The company raised another $30 million that's being used primarily for additional geographic expansion, expanding its grocery delivery business, as well as continued improvements to its user experience, which includes testing a new voucher program intended to lure delivery customers back to in-store dining as the pandemic slowly recedes in the United States.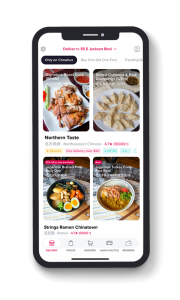 With all of that keeping the fast-growing Chicago-based team busy, Chowbus also worked to bolster relief efforts for its restaurants that have been uniquely impacted by the pandemic and the wave of COVID-related, anti-Asian violence that has erupted in various cities across the country in recent months.
Chowbus Vice President of Operations Matt Jones joined the company in August after spending seven years at Uber, including working on the launch of UberX in Chicago. He said his new company's commitment to creating community within the Asian community is a big part of why he made the leap to restaurant delivery.
While it's an interesting focus, strictly on Asian cuisine, it has such vast ambitions, he said of Chowbus. "Meeting with the leadership team here really got me excited to work with really authentic people who care deeply."
Working with the company's local and national operations team has meant helping to solve the day-to-day needs of restaurant partners on the platform, as well as helping them plan for an uncertain future that, by most accounts, will involve a drop in delivery volumes as dine-in traffic returns.
Building a centralized operations team has been critical work as the company scales its business model to new cities, and Jones said this team has encountered its fair share of growing pains, "just like any other company, so we're trying to take a look at everything we're doing from an operational capacity and ask ourselves, 'Could we be doing this better, and could we actually scale this in a way that allows us to continue to have these personal, deep connections with our restaurant partners and our driver partners?'"
Those personal connections are marketing speak for any brand in the convenience economy, but Chowbus points to more than half of its customers subscribing to its Chowbus Plus loyalty program—and those users order an average of five to six times each month. In addition, the company is building a following among customers who live far outside core cities, but want to take advantage of the company's long-distance delivery routes that bring orders from Chicago Chinatown, for example, to customers as far away as Bend, Indiana.
The company has brought similar long-distance service to its newer markets, from Boston to Houston, and as far west as California's Bay Area.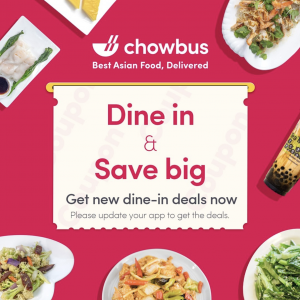 Jones also pointed to the brand's social engagement on its app that he said has become a key part of the marketing plan for many of its partnered restaurants, which Chowbus is looking to double down on with its new voucher pilot that's intended to convert delivery customers to in-store diners. That's in response to concerns from Chowbus restaurants wondering what a return to normalcy means for traffic, and how that will settle out between the dining room and delivery volumes.
"We provide free marketing and sales insight that really is allowing them to continue to grow and continue to grow outside of that initial pandemic pop," he added. "For us, coming out of this pandemic, we're going to look for ways to help drive their business for off-premises and on-premises, as well."
Chowbus has expanded to 28 cities across North America in recent months, and the company has seen a five-fold increase in the number of restaurants on its platforms while its customer count has tripled over the same period.
Building on discovery
Suyu Zhang, the company's co-founder and chief technology officer, said the company is already starting to see an increase in dine-in business, which is encouraging his development team to find new ways to introduce its restaurants' food to more customers, stressing that "food delivery is only part of our service."
Recent tweaks to the Chowbus app are intended to improve the discovery process, both for new food items, as well as new restaurants, and said the new voucher initiative being tested in the Chicago market is similar to Groupon's model of selling a service in advance of its actual fulfillment.
"Customers can always get a discount through the voucher, but it's more about discovery," Zhang said. "It's a good opportunity for them to try a restaurant for the first time and, for the restaurants … they want to attract more dine-in customers, so this is a great channel for them to do that."
Trying to intentionally carve a different path than the largest third-party delivery providers, he added that Chowbus is improving its use of high-quality photography and deploying more videos that he believes can do an even better job of showcasing featured cuisines, dishes, restaurants and even chefs to make using the company's app about much more than plugging in your next meal order.
"We don't see ourselves as a transactional platform," Zhang said. "We want to be a more emotional platform that introduces unique food you've never tried before."