The new director of takeout and delivery at The ONE Group (NASDAQ: STKS) has made a lot of changes in her first five months at the company. Known for the upscale STK Steakhouse, Kona Grill and a handful of elegant one- and two-location restaurants, off-premises operations were never a major focus. Few people order a $20 Caesar salad and $50 filet via DoorDash, and the brands are tailored for what STK calls "vibe dining."
The task for that director, Ariel Lofland, was to figure out how to pack up those vibes for takeout and delivery. That's no easy task, but Lofland has some experience as a key leader that built out Red Robin's innovative off-premises program from the menu and packaging to the popular free fries for drivers.
She starts her focus with the customer.
"We really had to understand what the guest wanted form a takeout and delivery model," said Lofland. "Order accuracy became very prominent, also respect of the guest's time. If we say it's going to be ready in a certain time, we effort to make sure it's ready at that time. Those are the two things that really mattered most to the guest. Then it was how the heck to de we figure that out in the restaurants and on lines that weren't made for that."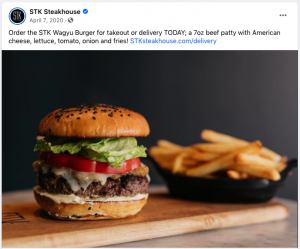 She's done a lot in her first few months. The delivery menu was tweaked to only feature items that would be great after 40 minutes in a box. She put a major focus on STK's Wagyu Burger, and built delivery campaigns around it and some enticing photography. She created a "snack bag" for drivers including a bottle of water and a bite to eat to keep them happy. She also pushed for exacting prep times so drivers wouldn't be waiting long—the most common complaint among drivers.
Two things, however, were at the core of all the changes and both were relatively low-hanging fruit.
Dedication
"You have to have a dedicated team, not a designated team. The difference is, 'Hey the host can take care of to-go;' that's designating someone. A dedicated person, that's all they do. That's a crucial differentiation," said Lofland. "Takeout and delivery weren't an area of responsibility in the four walls. That was the first thing I did, designated a manager to be responsible. That was done very quickly."
She said that was not the general manager, but someone who could take ownership of off-premises orders without a slew of other duties. She also carved out a dedicated space for that role.
"One of the things I do is the box theory, I will go into a restaurant and work with a to-go specialist and I'll put a box of blue masking tape by their station and say you can't step out of this box, but you have to pack your entire order—what are you missing? It completely changes the thought process on what they need and they can quickly expedite and stage the orders, so it's ready when the driver gets there," Lofland added.
That space also includes the order information tablet or a printer. That was one easy fix when she arrived at STK. The company was seeing some issues around accuracy when it came to beverages and desserts because it was set up for in-house dining and printed to the dessert station and the beverage station but not to the expo station. It was something that was clearly visible in the restaurant, but not in the home office. She said it was one clear reason to have a dedicated off-premises leader, too.
"If you want to get intimate and see through the lens of the restaurant, go to the restaurants. I spent my first month in the restaurants," said Lofland. There, you can see "what are those simple fixes. Technology can be fixed; printer routing can be fixed."
Communication
The second key thing was getting out the message that these orders were business critical. She bundled up the analytics from guest surveying, reviews, third-party platforms and got it all in one place that everyone could see and examine.
"My mother always said knowledge is power," said Lofland. "What I've learned is a different spin on that: shared knowledge is power. If you don't share it, it's not useful. I analyze it and compute it and send it out to every restaurant GM, executive chef and leader every week like clockwork. It's really up to them to look at that and ingest that information and create a different path for each restaurant."
That has an interesting gamification effect on the program. Restaurant leaders can see where they need some work and what kind of revenue—largely incremental in Lofland's view—is flowing through.
"They look forward to our weekly call and that weekly email because they want to be the person who comes across with 100 percent order accuracy, they strive for those kudos," she added. "They understood it was important, but do they truly understand why it's important?"
Lofland said the message coming down from the home office is that this is important and delivery customers are real guests with a lifetime value attached. There's also some evidence that delivery keeps ONE Group brands top of mind for in-person dining between those Wagyu Burger delivery orders.
She still has plenty of work to do. She's taking on packaging for the company, which was quite a process even prior to COVID-19 supply chain headaches. Tuning all the dials to turn the fledgling program into a real revenue center is a constant process, as well. So far, the re-think of the off-premises program is clicking, but she said listen to the next ONE Group earnings call for details.