OOMI, a single-location delivery kitchen in downtown Dallas, has begun using Empower Delivery to optimize its kitchen management in-house delivery program. The software startup was recently spun off of ClusterTruck, and is designed to help delivery-centric operations improve their off-premises economics and reduce delivery times with precisely coordinated in-house drivers. 
After using Empower Delivery for a few weeks, OOMI co-founder Markus Pineyro said the machine learning-driven system is perfectly coordinating kitchen fire times with its driver timing to improve the food quality, reduce mistakes, and shorten the time between ordering and arrival. 
Pineyro likened the system to ducks swimming on the water, where customers and drivers only see a calm operation hiding the complex calculations required to synchronize available staffing, estimated delivery times and the specific moment each item should begin cooking to coordinate the entire order. 
The end goal is customers within OOMI's delivery radius consistently receiving their orders within approximately eight minutes of it being cooked, which is a tall order for any multi-concept delivery facility. 
"The customer doesn't really get to see the organized chaos under the water," he said of Empower's lean manufacturing-style kitchen and delivery optimization. "All they see is the duck swimming."
Machine learning at expo
OOMI being Empower Delivery's first customer is no surprise, as Pineyro told Food On Demand last fall that he modeled the business on the likes of All Day Kitchens, Hungry House and ClusterTruck—the latter being the test ground for the software system that was recently spun off and made available to other delivery-focused kitchens. 
Empower Delivery CEO Meredith Sandland, co-author of the Delivering the Digital Restaurant book series, said OOMI "made all the sense in the world" as a first, exemplary client for the brand because the business is focused on delivering great food that's delivered so quickly that food quality exceeds typical meal delivery operations.
"We think that really shatters the expectations that consumers have for delivered food, which are frankly quite low because the experiences they've had have not been good," she added. 
Pineyro struck a similar tone, saying one of his biggest pet peeves is people saying food is "pretty good for delivery," rather than unequivocally calling it an excellent culinary experience. 
"What the hell does that mean?" he said about such comments. "That means that you're expecting it to already suck. That's not how it should be. Delivery should be just as good as…a home cooked meal or eating a meal at a restaurant, it's just a different type of way how you got your food."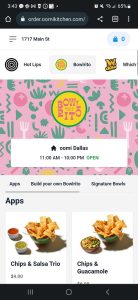 Delivering within an eight- to ten-minute radius around its home on the outskirts of downtown Dallas, he said the key to adopting Empower was precision coordination of cook times in the multi-brand kitchen, which allows the expo line to be a smoothly coordinated option. 
In practice, that means food is leaving the OOMI ghost kitchen exactly when all items are ready, rather than some dishes waiting several minutes before embarking on the delivery journey. 
"At a restaurant with Empower, it's almost the same experience [as dine-in], because by the time the food gets made it's all synchronized at the same time to be expedited, which is the magic of Empower through machine learning," Pineyro added.  
Sandland said OOMI has implemented its own version of the Empower system with slight tweaks, as the delivery radius for ClusterTruck was a "hard seven minutes, no exceptions." She added that such a tight delivery radius doesn't work for everyone, and developing that level of flexibility has been a primary focus since Empower was launched last fall.
"The main thing is that we've gotten to know our customers, and that comes through a data-first [perspective], learning what's selling, what's not selling, what kind of feedback we're getting from customers," Pineyro added. "Being able to communicate with our customers has given us a starting point on what are the things that we want to do and what menus we want to develop."
Better than a refund
Pineyro stressed that finding success with virtual brands and ghost kitchens means running the operation with delivery top of mind, rather than some "marginal" experience that is naturally playing second fiddle to dine-in operations. Many ghost kitchens have added dine-in operations in a bid to spread out traffic and reduce delivery fees.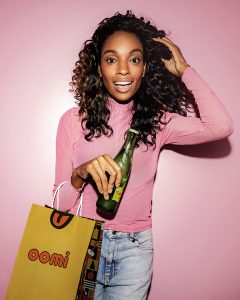 Sandland says another key component of the Empower setup is starting new customers off on a kitchen's first-party ordering system, rather than trying to convert existing third-party customers to in-house channels further down the road "just because it's so hard."
"The people who are using third-party [ordering] are using it generally for a reason, and overcoming that reason is much more difficult than one would imagine, because there's inertia there," she added. 
OOMI has an exclusive contract using Uber Eats as a marketplace, rather than delivery fulfillment. That approach reduces the total cost of delivery, since OOMI has its own fleet of drivers that can be ready to roll at a moment's notice. 
Controlling its own drivers also improves the customer experience when mistakes are made with a given order. Rather than just offering customers a refund, Empower's system paired with in-house drivers means the kitchen can immediately refire an item and get another driver on the road so the proper item arrives very quickly, and fulfills the customer's original request. 
Both said that type of problem resolution, rather than just taking an item off the bill, leads to true loyalty and improved customer satisfaction scores. 
"When you make a mistake, what a customer really wants is for you to fix it, they don't want a refund," Sandland said. "They were hungry and they ordered a burrito with no cheese because that's what they wanted to eat. When you give them their money back, they're still hungry, so our system allows you to fix whatever that challenge might be and send the product out immediately so the customer actually gets what they want." 
Repeat orders front and center
While many delivery management systems focus on current order volumes, Empower prioritizes repeat customers front and center in the mission control dashboard, which Pineyro said is "such a weird number" to focus on, but said it's a critical mind shift.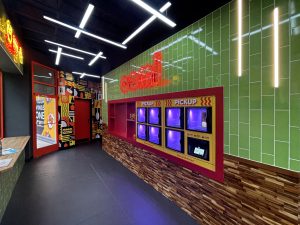 Since implementing Empower, OOMI's repeat customer rate is at 43 percent, which Pineyro said he expects to go higher in the coming weeks as customers begin experiencing faster deliveries and a more personal connection with OOMI's outside and in-house brands. 
With approximately a year of experience, some of OOMI's most popular brands are the delivery-only concepts developed in-house. OOMI is currently raising funds for an expansion within the DFW metro area and at the same time developing new brand offerings following the formula that has resonated with their current brand portfolio. 
"Our two virtual brands that we created…are the most successful brands within the platform, not the 17-year-old restaurant brand that I had coming into OOMI, and not the national sandwich company that we have," he said. "What that told me is that we have the ability and the knowledge…to create what people want. We don't have to go out and outsource it anymore." 
Sandland says that experience backs up her continued faith in the virtual brand category that has come under scrutiny in the wake of the MrBeast scandal and Nextbite's near failure, which resulted in a sale to C3. 
"You can't say virtual restaurant brands just don't work. There are ways in which they work, and I think Markus and the OOMI team have figured out how they worked," Sandland said. "Again, it starts with great food consistently executed, but then wrapped in a brand that resonates with the customer and then with marketing tactics to put it in front of the right consumers so that they choose it."