More than a year after partnering with Lunchbox on its first Citizens Go ordering platform, C3 has launched a new version of the mobile app that includes business-to-business and loyalty capabilities.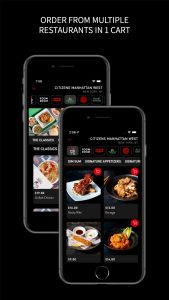 Developed by its own in-house team, C3 calls the new Go by Citizens app "the fastest growing food tech platform" in the restaurant industry. Created from scratch and launched this month, the company bills the app as an alternative to third-party platforms for pickup and meal delivery.
The app, which includes more than 400 menus, allows customers to order directly from several of C3's virtual restaurant brands in a single cart order "without hidden delivery or markup fees." Go by Citizens is also provided as an added solution for many of C3's joint venture partners including TGI Fridays, Reef Kitchens, Graduate Hotels and tech aggregator Chowly.
Current C3 brands available for ordering on the Go digital marketplace include Umami Burger, Sam's Crispy Chicken, Krispy Rice, Sa'Moto, Cicci di Carne, El Pollo Verde, Kumi, EllaMia, Stonie Bowls, In A Bun, Plant Nation, Soom Soom Fresh Mediterranean and Cindy Lou's Cookies.
Among many design upgrades, Go by Citizens web and mobile users will now experience:
Simple and Easy Ordering: Customers can add a variety of menu items to their mobile cart directly from the menu grid allowing for a more streamlined experience
Access to More Options: The app will provide customers with access to more than 400 menus including menu items from TGI Fridays brick-and-mortar restaurants
Faster Access to Mix-and-Match: With fewer clicks, customers will have the ability to navigate through various C3 ghost kitchen brand menus allowing mobile carts to be diversified with just one delivery fee
Social Integration: Customer login will be accessible with the click of a button through existing Google, Apple, or Facebook accounts
Expedited Checkout Process: Delivery addresses and credit card information can be safely and securely stored within customer accounts for a faster checkout process
The Ability to Order Again: Order history will now be saved within accounts allowing for faster and easier re-ordering
"In the last year, more than 50 percent of consumers have reported that the ability to order food through a web or mobile platform is essential to the way they live. But the platforms that exist today are forcing people to think inside one menu," said C3 founder and CEO Sam Nazarian. "Go by Citizens has changed the game by allowing dining experiences to be tailored based on favorites from a variety of restaurant brands, encompassing C3's all-encompassing digital marketplace."