Toast, the unicorn point of sale provider, has filed to go public.
According to SEC documents, the company has grown to just short 48,000 restaurant partners and saw $23.4 billion flow through its system in the six months ending with June, 30 2021. That puts the company on track for an annual gross processing volume (GPV) of more than $46 billion, up 17 percent year over year.
That was one insight from the company's S-1, the initial document that companies file prior to going public, but there were a lot of other big and interesting numbers. Annual recurring revenue (ARR) was 77 percent year over year through 2020, and reached $494 million in the six months ending June, 30.
That revenue breaks down into a few categories for 2020: subscription services of $101 million; financial technology solutions of $644 million; hardware sales of $63 million and $15 million in professional services. The fact that hardware is one of the smallest portions is drastically different than the other major point of sale players and demonstrates the value of cloud-based POS providers for investors—a lot of ongoing sales after installation.
Of course, there are a lot of ongoing costs, too, the largest being attributed to those financial technology solutions. The company spent $508 million on that line item alone in 2020. Total cost of revenue reported in the S-1 was $682.7 million last year, meaning the company did not see a profit last year. The last six months, however, it reported earnings before interest, taxes, depreciation and amortization (EBITDA) of $14.2 million.
That glimmer of real earnings is nice to have when going public. Olo, the latest food-tech peer to go public, saw similar results that helped public investors and institutions see that the exciting growth also could turn into actual earnings.
According to its S-1, Toast expects that to be the first windfall in a vast new footprint.
"We believe we are in the early stages of capturing our addressable market opportunity. Although we are a leading platform serving the restaurant industry, as of June 30, 2021, the locations on our platform represented only about 6 percent of the approximately 860,000 restaurant locations in the United States," read the document. "Our ARR, as of June 30, 2021 was only about 3 percent of our near-term serviceable market opportunity of approximately $15 billion. We see a significant opportunity to increase sales to both new and existing customers, further expand the usage of our platform outside the United States, and address the diverse needs of new and existing restaurant industry stakeholders."
That explosive growth potential is also exciting to investors. The digital transformation in restaurants is nothing short of explosive and new tools that the cloud-based providers offer, along with the software-as-a-service model, are clearly grabbing restaurant entrepreneurs. The company shared a chart of its major growth with the timeline of those various innovations like delivery support, online ordering, loyalty and 2020 additions like proprietary Toast hardware (vs tablets) and off-premises tools.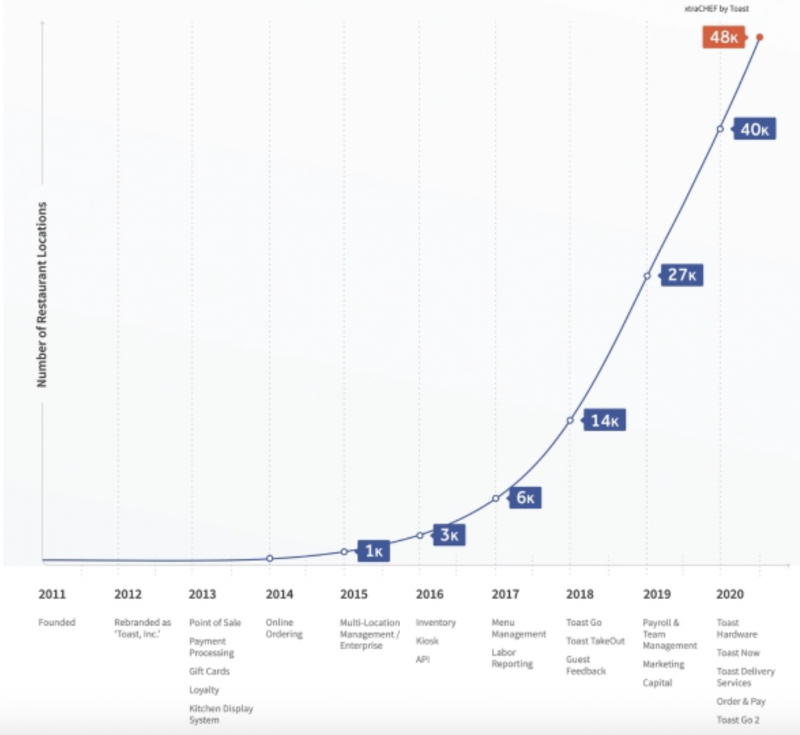 The company admits it is a tough market, and the promise of being a sticky point-of-sale player also applies to other competitors in the cloud space.
"The restaurant industry is one of the largest, most complex, and most competitive markets in the world, with an estimated 22 million restaurant locations globally generating greater than $2.6 trillion in annual sales in 2021," read the S-1, calling out legacy POS. "These products often fail to meet evolving guest needs, which have continued to shift towards digital channels."
There's no word on when the company would actually hit markets, and the S-1 shows it hoping to raise $100 million, but that will likely skew much, much higher. Olo, again as a recently public peer in the restaurant-tech space, raised more than $450 million on 2020 sales of $98.4 million and profit of $3 million.