Continuing its closed-campus expansion that's so far centered around colleges and universities, Grubhub is bringing its Onsite mobile ordering and pickup technology to Naval Station Norfolk through a venture with The Navy Exchange Service Command (NEXCOM).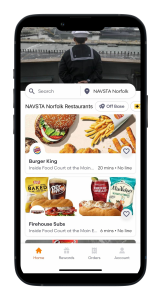 With this new offering, more than 100,000 military personnel, their families and people living and working on the base can skip the line at restaurants in the Norfolk Main Navy Exchange (NEX) food court and on base by ordering food and beverages through the Grubhub app for pickup.
Personnel on base will be able to order from restaurants including Panda Express, Firehouse Subs, Burger King and Raising Canes. They can place an order on Grubhub by affiliating with the base via geolocation in the Grubhub app or from QR codes around the base. Once affiliated with the base, available restaurants will populate for ordering. 
Additional dining venues on the base will continue to become available throughout the year.
"Taking time to enjoy a meal shouldn't be a stressful part of anyone's day, and we're proud to support the Navy community and their families with a convenient dining ordering experience," said Rob DelaCruz, vice president and general manager of Onsite at Grubhub. "Grubhub's Onsite platform technology was built to support an array of ordering environments, and we're honored to bring this ordering capability to the Naval Station Norfolk."
"The Navy Exchange Service Command continues to seek business concepts that support our Sailors and military families with convenient and accessible food options," said Dennis Wilkerson, vice president of NEXCOM's enterprise food service. "Particularly at Naval Station Norfolk, expediting the availability of a warm meal for Sailors on duty strengthens Navy readiness and quality of life mission."
Through Grubhub Onsite, diners are able to order their favorite meals and convenience items via the Grubhub Marketplace outside of traditional residential environments, including at hotels, in stadiums and hospitals and on college campuses. Grubhub Onsite is built to handle high traffic and order volume environments and showcases available restaurants in a branded space within the Grubhub app.
More information on Grubhub Onsite can be found here.