Superorder (formerly known as Forward Kitchens), a New York-based software platform that helps restaurants build a virtual presence, has landed a $10 million Series A and angel funding round.
The funding was led by Foundation Capital with participation from Michael Seibel (managing director of Y Combinator), Kyle Vogt (co-founder, CEO Cruise), Jon Swanson (chairman Thumbtack), James Beshara (founder of MagicMind), BBQ Capital, I2BF Global Ventures, and others.
Founded in 2019 by Raghav Poddar, Superorder aims to "simplify tech adoption" for restaurants, so that "owners can invest their time into their core businesses." The company works with more than 1,500 restaurants in over 180 cities, providing order management, marketing automation and financial management, with the goal to help grow delivery and takeout revenue with virtual brands.
"With convenient digital delivery and takeout driving an ever-growing share of restaurant sales, Superorder helps restaurateurs accelerate profitable growth while running a smoother operation," said Angus Davis, general partner at Foundation Capital. "Having founded and grown a restaurant tech company earlier in my career, I was especially excited to invest in Superorder, which is leading the next generation of technology to help local restaurants succeed and grow."
Adjacent to the funding, Superorder also announced a selection of new generative AI products "as businesses evolve to serve a larger chunk of the restaurant's revenue stream."
These products include:
AI-powered website builder: Crafts user-centric designs in seconds. Operators can edit and build the website using the restaurant's existing menu and photos or AI-generated images and menus.
AI-curated Images and menus: Provides visual food imagery by matching menu descriptions and automating photo creation. The tool can also create accurate menu descriptions and items names with a one click.
The latest Series A round follows a $2.5 million seed round in 2021, which was leveraged "to expand the company's footprint and hire a team in operations, sales and engineering to support the initial product."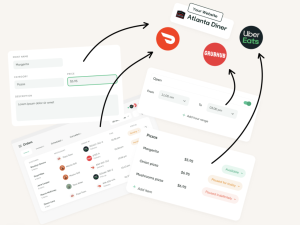 Today, with a growing team of more than 70 employees, Superorder aims to use the new funding to continue its expansion.
"For most restaurants, digital revenue is becoming an increasingly larger share of their business, making tools like third-party delivery platforms, virtual restaurants, and online ordering imperative in order to compete and remain successful," said Raghav Poddar, CEO of Superorder. "In the same way that it's largely illogical not to use Shopify when building an e-commerce store, a simple, consolidated, and automated platform to run all delivery and takeout revenue will become the obvious choice for any restaurant."