DoorDash has expanded its merchant mix with a handful of new grocers and retailers including Dick's Sporting Goods and Big Lots. This further broadening the largest delivery provider in the U.S. beyond meal delivery.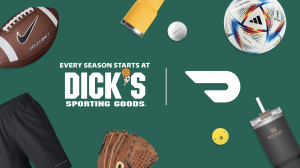 The latest announcement lists a variety of new grocery, convenience, sporting goods and home goods sellers including Sprouts Farmers Market, EG America, Big Lots, Dick's Sporting Goods, Giant Eagle, Weis Markets and The Raley's Companies, which offers on-demand grocery delivery from 213 locations across Northern California, Nevada and Arizona.
In total, DoorDash now has more than 75,000 non-restaurant retail stores on its platform across North America.
"DoorDash's mission is to be the one-stop shop for all local commerce needs for consumers, and that starts with bringing every business on Main Street online. Our goal is to level the playing field for retailers while helping consumers get the best of their neighborhood delivered to them instantly. DoorDash is hyper-focused on selection, and we're excited about the significant progress we've made towards connecting every grocery, convenience, and retail store to every local consumer," said Shanna Prevé, vice president, business development at DoorDash.
Over the course of the past year, customers who ordered from a grocery store on DoorDash increased by 130 percent.
Incrementality studies conducted across a number of the company's grocery and convenience enterprise partners indicate that DoorDash is 70-90 percent incremental to their existing customer base—meaning that it believes those merchants are receiving orders they wouldn't if they weren't listed on the DoorDash platform.