New data shines a light on delivery consumers and their habits. Numerator, a market research and consumer insights company, took a look at some 450,000 American consumers to glean some information about their collective appetite for delivery.
The big numbers: The average food-delivery user places an order a little over seven times a year and spends about $22 per order. For some context, McDonald's dine-in and delivery customers order about once a month or 12 times a year and have an average ticket price of around $5.
An interesting statistic Numerator found was how minorities over-index as delivery consumers. It found that delivery customers are more frequently African American, Hispanic or Asian, with black consumers outpacing the average shopper by 10 percent. Millennials and Gen Z, of course, index higher than average, and delivery is strong in urban areas along the Pacific (see chart below).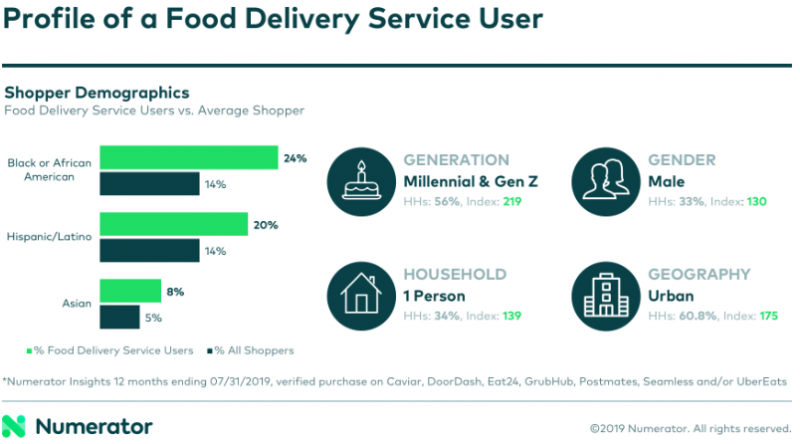 That makes sense, given the heritage of these companies on the West Coast. An intriguing part of the research, however, is the psychographic data gleaned from these consumers about how they think about delivery.
The surveyed diners generally dine out a lot (four or more times a week) and like to try new things. This is noteworthy because a common thought is that delivery consumers are homebodies who prefer Netflix, delivery and hanging with their cat to dining out. But these are consumers who really like restaurant food—and maybe just can't cook.
They also find online shopping "very enjoyable," so browsing their delivery apps is actually more fun for strong delivery consumers than the average person. And a bit of a psychographic trait, these consumers are willing to pay more for convenience, 1.6 times more so than the average consumer.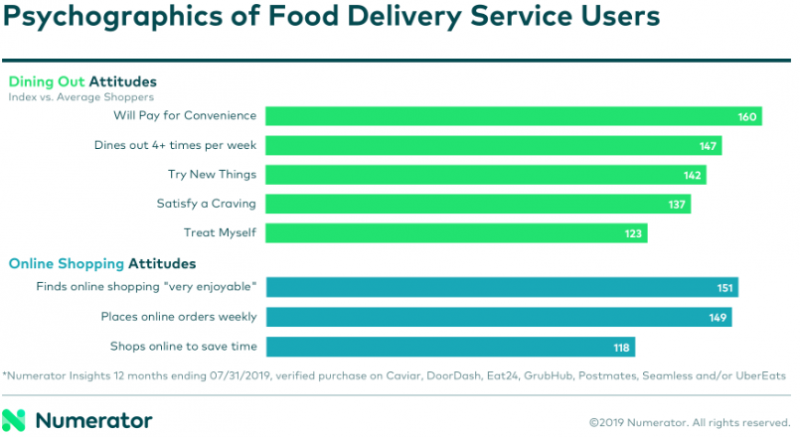 What ultimately works to get consumers to use an app or place an order, however, depends, check out the chart below. The biggest spender on advertising was Grubhub, which invested $71 million in the last year. DoorDash spent $44 million, Postmates,  $31; and Uber Eats, $28 million.
The breakdown is interesting, as well. DoorDash and Grubhub spent heavily on TV ads to get the brand out there, while Postmates stuck to mobile ads and Uber Eats hit everything pretty equally. Consumers for DoorDash and Grubhub said TV was really impactful, and online ads got Uber Eats consumers to sign on and order more.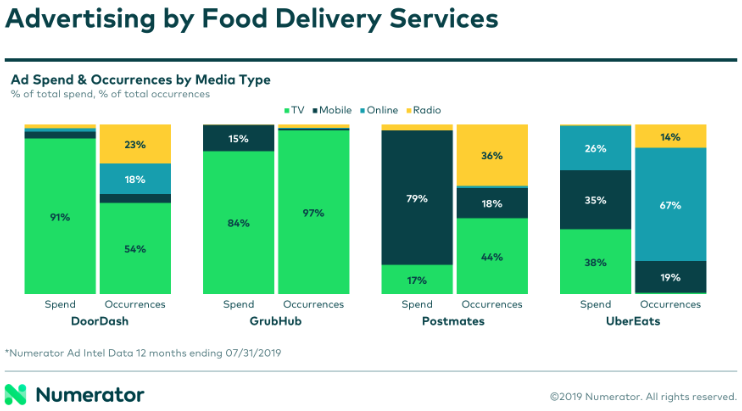 For more on this data, head to Numerator.