DoorDash is getting boozier with news that customers in 20 states and the District of Columbia—as well as users in Canada and Australia—can now order wine, beer or spirits for on-demand delivery or pickup from thousands of restaurants, grocery stores and retailers.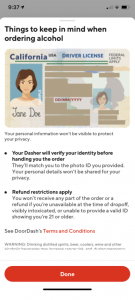 Reaching more than 100 million customers worldwide, users in select markets—where legally permissible—can toggle to the Alcohol tab of the DoorDash app to browse and order from a selection of drinks from restaurants, grocery stores, local retailers and convenience stores. This addition follows a multi-year journey of fulfilling alcohol on-demand delivery for many national and local merchants via their own channels with DoorDash Drive, DoorDash's white-label fulfillment service.
"Over the past year, many cities where we operate evolved their legislation in order to permit the delivery of alcohol to residents' homes. Over that time, we worked tirelessly to build a trusted alcohol ordering and delivery experience for merchants, customers and Dashers," said Caitlin Macnamara, director, alcohol strategy & operations at DoorDash.
DoorDash has built an alcohol catalogue including 30,000 SKUs available for purchase across thousands of retailers and restaurants nationally, whether it's to-go drinks from a local restaurant or a celebratory champagne from a nearby local store. Additionally, with the recent roll out of DoubleDash, customers in select markets can now bundle alcohol with their restaurant meal on certain orders.
According to a recent Nielsen report, alcohol is the fastest growing e-commerce vertical across all consumer packaged goods, and many retailers and restaurants on DoorDash see increased sales due to the reach and visibility of the DoorDash Marketplace.
Data from the National Restaurant Association showed that 56 percent of customers over the age of 21 say they would be likely to order alcoholic beverages if they were offered them as part of a food delivery order from a restaurant.