Virtual brand provider C3, which recently acquired Nextbite, is making good on its founder's promise to bring its portfolio of virtual brands to provide jets through a new partnership with Xo that bills itself as the world's premier private aviation network. 
The partnership's goals are as lofty as Xo's flight patterns: reimagining the private jet onboard dining scene, while bringing virtual restaurant brands to entirely new places.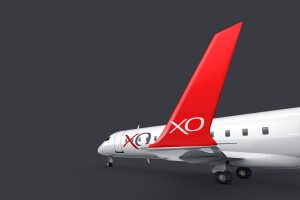 Florida-based Xo operates a fleet of more than 2,400 private jets that can be booked for private charters or as individual seats on a shared flight.  
Beginning this month, flyers on select shared flights from New York to South Florida, its most popular shared flight route, can now enjoy some of C3's brand offerings while in the sky. It also includes the ability for flyers to build their own bespoke catering menu from multiple C3 brands in one order. 
C3 says this personalized dining experience is a first in aviation.  
Sergey Petrossov, chief growth and digital officer at Vista said, "Private flyers recognize Xo for the efficiency we bring to the end-to-end private flying experience. Through our advanced technology and mobile app—which enhance private jet accessibility, transparency, and the value of its offerings—Xo is built to provide private flyers with more choice. Our shared flights from New York to Florida continue to grow and resemble how this industry is moving towards more innovative flying solutions." 
As companies that share a commitment to innovation and excellence, we are excited to partner with C3. Like XO, they utilize technology to create an accessible and elevated experience—in their case, through world-class culinary talent."   
C3 founder Sam Nazarian said he was "thrilled and humbled to disrupt the most coveted world of aviation with the world of C3's culinary brands and technology." He added that orders will flow through C3's proprietary Go by Citizens platform.  
The collaboration includes seven C3 culinary concepts: the health-conscious offerings of Plant Nation, the Tuscan flavors of Dario Cecchini's Cicci di Carne, the Mediterranean flavors of Soom Soom, the Mexican flavors of Hecho Libre, Krispy Rice from the team behind sbe's sushi concept, Katsuya, European-inspired breakfast by EllaMia, delicious sweets from Cindy Lou's Cookies, and many more to come—these seven concepts are just the beginning.  
Upon booking, Xo provides each eligible client with a personalized link, allowing them to customize their inflight dining experience according to their preference through C3's 'Go by Citizens' technology.