After a major slowdown because of the coronavirus pandemic, large events with plenty of people to feed are making a comeback.
It's a fact that's been well recognized by those in the food catering business, such as the individuals featured at a panel during Food on Demand's Off-Premises Packaging Summit. One of the speakers featured on the panel, held in Dallas, was Thaddaeus Smith, the director of brand communications and executive chef at Sterno, who said some segments are especially roaring back.
"This has been the best year for weddings in generations, a lot of that coming from pent up demand," Smith said. "Non-profit galas are another strong area we're seeing growth in and social catering is trending toward 2019 numbers."
The only segment that hasn't fully recovered yet, Smith said, was corporate catering. Although, there are opportunities.
"While it continues to be a bit of a struggle, as we see these corporate populations having employees not returning as quickly, we are finding that more and more companies are using food as an incentive to get employees back in the office," Smith said.
Whatever customer does hire Sterno will find there have been some changes in the way the company is maintaining food temperatures.
"We're moving away from wire-racks and flames, with all of that having to do with safety," Smith said. "We were asked to develop a flameless option that can still keep food hot that's easy for the user to operate."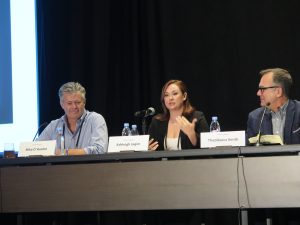 The product they came up with was SpeedHeat, which is a food tray holder with a divot where a heat producing packet that just needs water can be placed.
Another company sharing catering innovation was Velvet Taco, a brand with menu items that go beyond the usual Tex-Mex offerings. Ashleigh Jagim, Velvet Taco sales and catering manager, was on the panel to discuss how the company worked to ensure their products were available in a ready-to-serve container.
"We do not allow the tacos to be served buffet style as they're chef-curated," Jagim said. "The ingredients are put in a very specific way to create the flavor profile. So, we had to get creative on how we were going to make these tacos travel."
The result was a container box with individual slots to hold each taco and keep them upright. Purchasing those catering taco boxes have been non-traditional businesses without an office setting, Jagim said.
"Manufacturers have been huge for us, as well as distribution centers. The Amazons of the world," Jagim said. "Universities too, because university athletics are a huge part of catering, they feed their athletic teams at every single game."
In addition to industry growth and innovation, the end result for catering equipment was also touched on during the panel. In his comments, ezCater Customer Care and Operations Chief Mike O'Hanlon said there's a growing interest in disposing of catering items as the country is on a sustainability journey.
"We get requests from customers saying 'I want to order from a sustainable restaurant' or 'we want sustainable packaging,'" O'Hanlon said. "As partners, we ask what they mean by those things and we get a really wide variety of answers. There's a wide understanding of the whole concept and once you poke into it, it's really difficult to achieve."
O'Hanlon said ezCater is continuing to work with clients on solutions and is going so far as to introduce an experiment with utensils
"California and Denver have enacted laws that say companies have to opt into getting utensils with an order," O'Hanlon said. "So, customers by default won't receive utensils, and we want to test that nationwide. To see if that creates customers big problems because they won't have utensils, or they'll be really happy that they don't get a lot of things that will end up in a landfill."