Efficiency is an important element of the restaurant industry, and the increase in delivery demand means more is being done to make that front more effective, too.
Some new products assisting restaurants in improving the delivery segment were shared by panelists in Dallas at Food on Demand's Off-Premises Packaging Summit. One example was exterior food lockers, developed by Apex Order Pickup Solutions.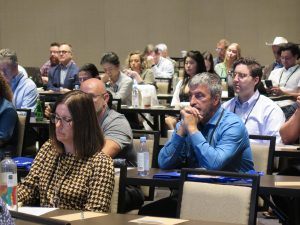 Mike Rizzo, the chief growth officer at Apex, said the lockers can be located near designated parking for drivers who can walk up, scan their phone and pick up the order that has been placed by the kitchen on the inside.
"We think it's a big opportunity," Rizzo said. "It's going to prominently be for customers who have new brick-and-mortar locations, as it's somewhat tricky to retrofit. Although, we have a large QSR operator that is interested in doing that."
In addition to making pickups faster, Rizzo said safety was another factor in developing the lockers.
"There are QSR operators who want to be able to close the dining room at 9 o'clock, but want the crew that's there until 10 in the kitchen to stay focused on getting those orders out," Rizzo said. "Those can be accessed from outside, and that way no one can come in from outside."
Ecolab was another company highlighted at the panel for some of its products that stay in the kitchen and others leaving the store. Those products are labels, which Ecolab Sr. Marketing Manager David deAzevedo described.
"Food service operators have the back of the house and the front of the house operations," deAzevedo said. "In the back of the house, you're going to have containers you wash and reuse and you need a label on there to mark when it's made, when it's going to expire, and those need to come off without the adhesive being left on."
In response to that need, Ecolab developed two types of labels, one that can peel off a container before it goes in a washing machine, and another that dissolves when washed. For the front of the house, meanwhile, deAzevedo said Ecolab produces customer-facing labels.
"We offer regular identification labels with a general-purpose adhesive, and then we have our tamper evidence ones with a very aggressive adhesive that need to stick quick and permanently," deAzevedo said. "Our labels are also limited by your imagination, so whether it's a branded message, a QR code, or a flyer you want to put on, you can use a label to do that. It's another tool available to operators that's free real estate. If you're going to put the tamper seal on there, why not multi-purpose it."
While the aforementioned products can assist a restaurant in keeping food in good shape from the kitchen to a customer, panelist Chad Brown, the director of sales and strategic account management at Vesture said there was another factor beyond the control of operators.
"What we run into on a regular basis is how the FDA has different guidelines for restauraters on moving food from their restaurant to a consumer and the food temperatures they're regulated by," Brown said. "A third party that picks up that meal and delivers it to my house and the restaurant's driver that delivers to my house are not held to the same standard. It's a big gap in the industry right now. So, naturally, for our position as a manufacturer for this off-premises world, we would love to be on the same playing field."