It's getting crowded in the restaurant tech landscape, especially among companies focused on customer loyalty and relationship management. Joel Montaniel, CEO and co-founder of SevenRooms, expects investor-driven M&A in the near future and more partnerships like his firm's landmark deal with delivery tech giant Olo.
Officially a guest experience and retention platform for the hospitality industry beyond just restaurants, SevenRooms is a 10-year-old player in a category filling up with younger companies that are attracting investor dollars at a breakneck pace.
Being a behind-the-scenes tech provider has limited its name recognition, but its new partnership with Olo, the leading on-demand restaurant commerce platform, will increase SevenRooms' visibility among a wider cohort of enterprise and large-scale restaurants.
Montaniel said this partnership was a long time coming given the long-standing relationship between the two companies, and something that was discussed before the pandemic upended the industry and forced both companies to lock down into their own worlds.
Now that Olo customers will have the ability to add SevenRooms integration, they can access a clearer picture of their customers, including cuisine preferences, whether they dine inside the restaurant or use delivery, and even what kind of reviews they leave on platforms like Yelp—all with the goal of giving operators the customer data that third-party delivery providers typically keep to themselves.
"We have an integration where we are pulling the order data from Olo into the SevenRooms profile, so when you order through Olo at one of the restaurants and then you come into that restaurant to dine in, that restaurant can understand you've been a massive delivery customer and a really loyal one," he said. "They can see your value, they can see what you like, and they can service you in the restaurant in a much more personalized manner, so it really helps them deliver an experience to you that maybe wasn't available for them to deliver before, because they didn't have the data connected."
When those customers leave the restaurant, restaurants can subsequently offer them delivery promotions on a Wednesday, for example, and then on Friday market to the same customers to come into the restaurant's dining room—all based on previous ordering habits and behaviors.
"It really enables them to service what we think about as the dine-in-plus-delivery guest up and down across the guest journey online and offline," Montaniel added.
At its inception, New York-based SevenRooms was strictly a customer relationship management provider, but eventually diversified to focus on guest experience and retention, as well as online ordering and personalized marketing campaigns.
Working with mom-and-pop independent restaurants, entertainment venues like casinos and Topgolf facilities, all the way up to the largest restaurants and hotel food and beverage providers, the company's headcount has swelled to 170 employees in several countries—partially boosted by the pandemic forcing so many dine-in customers into online ordering channels.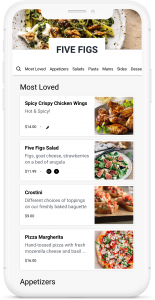 Dedicated to helping operators blend on- and off-premises channels, Montaniel said his team believes the near-future state of foodservice is one where there aren't separate buckets of dine-in and delivery guests, but one venue-agnostic pool of consumers who want restaurants to recognize their preferences and understand that they're loyal customers, even if they haven't been seated in the dining room for a few months.
"Imagine a world where they start to understand what delivery guests are doing and ordering, and how that might influence the menu they create inside the restaurant for dine in, it also influences how they might think about staffing," he added. "Now they have a better understanding of their customers … and can understand how they should be ordering food, they can understand how they should be staffing their kitchens, and they can start to understand capacity, because, ultimately what we realized is it's the same guest, it's the same staff, it's the same kitchen, yet all of the data is disconnected."
For marketing, that personalized, channel-agnostic focus means restaurants can target delivery customers with a dine-in offer and entice dine-in customers to try delivery for the first time, among others, "in a way that's commission free and much more profitable for them, because they're not paying a third party for the right to do business with someone who they might have seen before."
SevenRooms collects some of its customer data through reservation bookings, much like Tock or OpenTable, but also has social media integrations and a commission-free native ordering platform that both collect additional information. It also allows restaurants to add in additional information, like specific cuisine preferences for individual guests, so their next visit can be a notably more personal experience.
Montaniel called Olo "the grandfather and the OG" in the restaurant tech space, as well as an advocate and mentor throughout SevenRooms' ten-year journey. Asked why Olo wouldn't just acquire the company, given the relationship and admiration, he said, "It's a good question, and I think you have a crystal ball." Without confirming any forthcoming announcement, he suggested there are others out there "asking this same set of questions," and said, "There could be a combination of efforts, if you will."
For Olo customers, adding SevenRooms functionality will come at a cost, the details of which haven't been finalized. Montaniel said the key will be making sure that fee structure is based on "demonstrable, incremental value" that can be measured in dollars.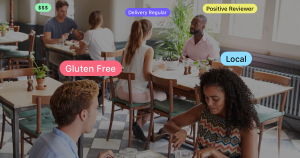 Montaniel speculated that the recent, successful public offerings of Olo and Toast supercharged investor enthusiasm for the restaurant tech space. He expects early- and later-stage, pre-IPO companies will have no trouble attracting investor capital, but predicted companies in the middle could struggle, leading to a possible wave of acquisitions or even some companies slipping beneath the waves.
"There's, from an investor point of view, an amazingly big addressable market with lots of money being spent here, and more and more investment dollars will come into play because there's been some big hits recently," he said, referencing those recent IPOs. "I think it's the companies that are in between that are going to have the hardest time finding capital, and it's the companies that are in these kinds of really crowded spaces that are going to have a hard time."
As the U.S. investor environment remains frothy, SevenRooms is resisting the urge to diversify into new categories, and will be focusing its efforts on further developing existing products, while also expanding its presence outside of North America.
The company's experience has shown that restaurants across the globe are facing similar challenges, including the dizzying array of choices on the tech stack side of the industry.
"Hopefully if a restaurant has never heard of us, in this case the fact that we have a partnership with Olo means something to them," he said. "For all of our shared, mutual customers, I think it further shows our commitment as an operator friendly, operator-first company to do the right thing for operators, to integrate and be open."