With built-in TV notoriety, wildly profitable food trucks, a growing mail-order business, and a corporate team that now includes Angela Coppler from Wendy's, Cousins Maine Lobster is leveraging its non-traditional off-premises operation as it begins a multi-front growth push.
The briny brand is headquartered in West Hollywood, California, but its backstory, wild-caught product and soul reside along the rocky shores of Maine's Atlantic coastline. Founded by cousins Jim Tselikis and Sabin Lomac, Cousins got its big break on the fourth season of Shark Tank in 2012 when the pair had been in business for just two months.
Ultimately, Shark Barbara Corcoran traded a $55,000 investment for a 15 percent stake in the company—and she continues to lend her star power and advice to the upstart brand that's largely based on mobile food trucks, but is scaling up its franchise operation to increasingly focus on brick-and-mortar restaurants.
Maine- and Connecticut-style lobster rolls are the signature menu items, served chilled with mayo or warm with butter and lemon respectively, but the brand also delves into bisque and clam chowder, lobster tacos and grilled cheese, and whoopie pies for dessert.
Through the mail, Cousins can ship live lobsters, at-home roll kits, surf-and-turf combos and salmon filets, among many others, that arrive frozen and ready to assemble for at-home experiences. At present, its mail-order business is growing 30 percent year over year. Cousins also uses third-party delivery, but the long lines at its locations often mean delivery is turned off in favor of serving in-person customers.
Angela Coppler, formerly senior director of global non-traditional development and strategic partnerships at Wendy's, joined Cousins as its head of development earlier this year. Asked what peeled her away from a 14-year career at the QSR brand, she pointed to Cousins' favorable economics and thoughtful approach to expansion—after building up the required corporate infrastructure—as well as what she sees as wide-open potential to take the brand to new markets across the country.
"Our food trucks can be deployed to market in eight to twelve weeks and you're driving an AUV of over a million four out of this food truck—it's crazy," she said of its approximately 60-unit footprint including trucks and restaurants. "When you take a step back and look at what's going on across the seafood landscape, there's a tremendous amount of white space being left for a brand like ours to step up and really provide this alternative protein, the ability to bring seafood that is very high quality but at a very affordable price point."
Building on flexibility
Out of its food truck in Portland, Maine, lobster rolls are priced at $23.99, while a cup of soup is $8, with the ability to assemble combos that include chips, tater tots or whoopie pies along with a drink for a few dollars more.
Shipped-to-your-door options are more expensive, with live lobsters going for $95 a piece, but owner Jim Tselikis who's based out of Boston stressed the quality of its wild-caught product that's intentionally harvested at the ideal time to maximize flavor and sweet juiciness.
Whatever the format, Tselikis said his brand's trucks, mail-order product and catering are intended to be a celebratory event where the customer is splurging on the highest quality lobster available.
"If that means you're spending $23 on a lobster roll versus something less, well, we think you're getting more," he added. "A lot of brands sometimes will try to squeeze more margin out by reducing their [cost of goods] and changing the quality or the spec once they get a consumer base. We're not like that."
The inherent geographic flexibility of a largely truck-based concept meant that COVID pumped steam to the brand's engines, helping build its cult-like following whether it was driving into neighborhoods, parked near the shores of a beach, at offices, breweries and wineries, as well catered events that can be fancied up or down-home casual.
"We are rolling up in our trucks and, all of a sudden, in front of a big-box retailer you've got a line of 25 people already waiting to buy lobster rolls," Coppler said.
A salty calling
With all of Coppler's experience with ghost kitchens and mobile food units like Reef's highly publicized partnership with Wendy's that was ultimately scaled back, she highlighted the many ways that Cousins and its franchisees can bring its coastal Maine experience to new markets.
"I really am drawn to wanting to work for a smaller organization, one where you feel you are capable of having that seat at the table, the ability to influence very quickly where and how you can grow, and to bring capability to an organization that might not otherwise have the resources available to move quickly," Coppler added. "It was one of those moments where you felt like there's a little bit of karma here, and perhaps all of the work that you've been doing is pointing you in a direction that has a bigger meaning and a bigger calling."
Tselikis stressed that, even though the brand is now "ready to rock," he and his leadership team want to move slowly. That careful hesitance is nothing new, as the brand had thousands of inquiries after its Shark Tank appearance.
"We don't want to convince someone to become a franchisee, and we don't want to convince Angela or anyone else to come join our team—it needs to be the right fit," he said. "But I do think that there were definitely places of synergy where she mentioned the stars aligned, where there is a lot of white space for us."
As the brand expands its physical store count, Tselikis pointed to its flagship location in Asbury Park, New Jersey that he said "really bangs it out." With physical stores coming five years after trucks, he added that they're still perfecting the store template, but stressed that franchisees love the flexibility.
Due to the brand's $35-$50 average checks and tips, crew members often walk away from a shift with $200 to $300 dollars in tips, and that ability to attract and retain employees is a key win for the business model in Coppler's eyes.
In total, more than 90 percent of the Cousins business is off-premises, partially due to a mobile app that helps enthusiastic fans find their nearest food truck and place orders.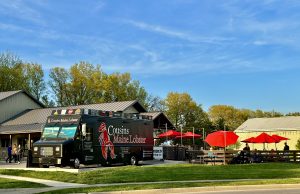 Asked about the economics of its third-party deliveries, Coppler said they're no different than other smaller and midsized brands struggling with commissions higher than a national brand can command. She said those factors give Cousins the opportunity to look at things from a different perspective from her previous role, including working with delivery co-ops whenever possible.
Through the years, Cousins has found that its food travels better than initially expected. Average check sizes through third-party apps are more than 32 percent higher than first-party transactions, which softens the blow and gives customers the ability to order for larger groups.
While off-site meal delivery is only a small part of the business, the brand sees higher potential as it scales up. That's paired with hopes that co-ops and other alternative delivery options also expand their footprints.
"When we can band together as [restaurant] community members, we start to build our buying power and there's an opportunity for us to find a new path forward that's beneficial to the restaurant industry, to restaurant owners, and to the consumers," she added. "That's like a triple win and we need that in this industry."