After conducting an in-depth case study comparing various delivery options, P.F. Chang's selected Cartwheel as its on-demand self-delivery partner. Following a pilot program, the service is now rolling out to more than 100 of the Asian chain's restaurant locations.
Like many takeout-ready brands, P.F. Chang's saw a rapid increase in demand for delivery at the outset of the pandemic. That experience included recognizing the positive impact of self-delivery on the holistic customer experience, which was borne out through the pilot program, which showed the benefits of self-delivery outweighed the costs of implementation.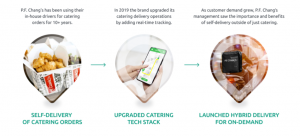 "The customer experience is paramount to P.F. Chang's, and we aim to provide the same level of service via delivery that we would for our guests who dine in with us," said Candice Barnett, P.F. Chang's vice president of off-premises dining. "Cartwheel allows us to handle the highest priority orders with self-delivery, ensuring the experience is seamless, delivered with P.F.Chang's Hospitality and encouraging the customer to return for repeat deliveries, through our native ordering platforms."
Cartwheel provides restaurants and retailers a hybrid delivery model, allowing them to launch a self-delivery program alongside their third-party partners. Brands can self-select certain orders for self-delivery—often those that are high-value or high-priority—and outsource the rest to third-party delivery services.
"Outsourcing delivery, while convenient, will only get more expensive as demand continues to increase, and the customer experience depends not only on the third party and its practices, but on the individual driver as well, said Alex Vasilkin, co-founder and CEO, Cartwheel.