There's nothing you can't do if you're an Instagram star with a wide following, and that now includes starting your own meal-prep business to bring your special cuisine or diet to your loyal followers. These new-age cults of personality are just part of the focus at Sprwt, a meal-prep software provider that's targeting online celebrities, as well as aspiring chefs and personal trainers attracted to the concept of low startup costs to turn your personal brand into a culinary empire.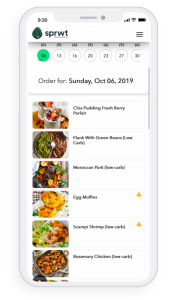 Started by a software developer who said he fell into the food-tech world "completely by accident," the genesis for the Florida-based company came from a project to streamline operations, ordering, reporting, food waste management and deliveries for a European meal-prep brand.
When that Portuguese meal-prep brand ultimately failed, Sprwt President Michael Rapoport didn't want to see his latest fruits gathering dust on a shelf, he and his team decided to scour their surroundings in Florida to find other meal-prep providers that might have a need for the now-complete software. It was a short quest, quickly resulting in two companies within 20 miles signing up to use the software.
After making some tweaks to suit both clients, Sprwt quickly expanded its roots beyond the Southeastern states and, four years later, the company is up to 100 clients across the U.S. and in the furthest corners of the globe.
Rapoport attributes the quick adoption to a variety of factors, including the COVID-19 pandemic closing dining rooms and putting a growing number of chefs on the unemployment rolls. The second major trend powering its growth is the rise of Instagram as one of the largest and most socially influential social media channels on the planet where celebrities, authors, fitness enthusiasts, comedians and exceptionally good-looking people can cultivate audiences rivaling primetime TV shows.
Now up to a team of 20, with expectations of having 50 employees by this time next year, Sprwt is pitching the meal-prep category as a better, less intensive, more approachable avenue for anyone who wants to bolster their brand by literally feeding their fans.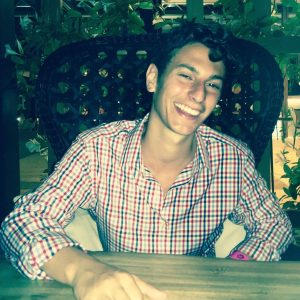 Compared to meal-kit providers like Blue Apron or HelloFresh, Rapoport said meal prep is an entirely different business model. The way he sees it, meal kit customers aren't necessarily looking to feed themselves as much as they "need an activity—they want to cook, but they want to have the instructions given to them." Meal prep, in contrast, tend to be more focused, including all of the branded diet plans like keto, paleo, Whole30, as well as existing chefs who've already built a fanbase for a specific cooking style or cuisine type.
"Our technology gives these businesses the opportunity to personalize a business model according to their needs and their customers' needs, and it scales," Rapoport added.
Digging into the financial side of the model, he says the math is relatively simple: If you can get 10 customers, charge them $12 per meal and an average of 10 meals per week equates to $1,200 in additional revenue in a single week. The Sprwt software tells its users what to purchase, calculates trim percentages and other financial metrics, including food waste, up to packaging to product ratio. Customers get detailed nutritional information, and meals that arrive in branded packaging to underscore its source.
Sprwt even goes so far as optimizing delivery routes, so it's easy to bring meals directly to customers. For those not looking to deliver, the company helps aspiring chefs to work with convenience stores or grocers in the area to sell meals directly out of these high-traffic destinations.
"This is why this industry is exploding, because the way customers are asking for food and the type of food they're asking for is changing towards a digital, more healthy, eco-conscious methodology, and that's what meal prep is offering," he said. "The restaurant experience and the quality of restaurant food with the luxury that Americans have of, hey, I just don't have the time, I need things simplified. We are in a service economy and that is meal prep in a nutshell."
With clients ranging from Dubai to Tunisia, and beyond, Sprwt's goal is to make starting a meal-prep business as easy as possible, with a monthly, subscription-based fee, as well as automation that Rapoport claims can be managed for as little as 45 minutes per week. Its subscription plans start at $150 and range up to $250 per month, depending on options.
While the possibilities are endless, Rapoport gave an example of a client cooking meal prep meals inside of a nearby restaurant that's closed on Mondays, transforming the perennial slowest day of the week into one of the busiest, now generating as much as $8,000 in a single day, which he said is "up to par with maybe a weekend for revenue." That example, he said, illustrates the third bucket of prospects for Sprwt: restaurants looking for creative ideas to squeeze additional revenue out of existing kitchen facilities.
For end users, the software allows customers to take a hands-off approach, leaving their choices to the chef's discretion, or going into the site to select individual meals for each day. So far, the company has been surprised by the number of customers that want the exact same meals week over week.
Compared to the concept of virtual kitchens, where restaurant owners can bring in outside, delivery-friendly concepts to boost their bottom line, Sprwt feels the meal prep alternative allows them to create additional revenue by cooking food that's of their own creation, without just slinging any old chicken wing concept, as an example.
"I'm not saying every one of our customers is a millionaire, but every one of our customers that's running a meal-prep company and doing it successfully, they're happy because they're making the money they need to support their lifestyle, and they're doing it with their menu, their choice, their decision," Rapoport said. "They have control, and that's so important in a business."