A new week has brought yet another major financial blow to the third-party delivery landscape with Uber posting a $1.2 billion loss during the third quarter on the heels of the mobility giant's epic $5.2 billion loss during the second quarter. Its stock price fell from the low $30s toward the high $20s, suggesting that Wall Street is generally unmoved by the red ink that some analysts said was smaller than expected as reports suggest SoftBank has lost a combined $6.5 billion on its WeWork and Uber investments.
With revenues of $3.8 billion, Uber CEO Dara Khosrowshahi said EBITDA from its ride business is up more than 52 percent year over year, while adding that its "Eats business also accelerated nicely." That fresh billion-dollar loss is attributable to Uber Technologies, which includes $401 million in stock-based compensation and revenue growth of $647 million.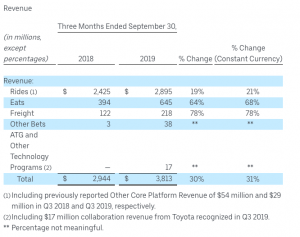 For Uber Eats specifically, its take rate—or margin—rose to 10.7 percent, which was on target with consensus analyst expectations. For the three months ending September 30, Uber Eats had gross bookings of nearly $3.7 billion, which is much higher than the $2.1 billion accrued during the previous full year.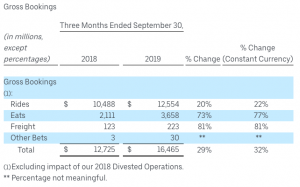 The day after Uber released its results, Tech Crunch reported that a new Uber Eats job posting looking for a staffer "to lead the team and efforts responsible for creating a new ads business" suggests that it will start selling ads on its meal delivery platform. An Uber spokesperson confirmed Tech Crunch's reporting, saying, "We are exploring relevant ads in Eats."
CNBC's Jim Cramer entered the fray on his highly visible platform within the investment community, suggesting Uber should exit the restaurant delivery business by selling Uber Eats business to Grubhub.
Uber first went public back in May 2019 when its shares were priced at $45. On this week's news, Khosrowshahi said his team is "pleased to see the impact that continued category leadership, greater financial discipline and an industry-wide shift toward healthier growth are already having on our financial performance."