With so many restaurants doing delivery for the first time because of the pandemic or earlier adopters updating their delivery programs in recent months, the energy is shifting from the must-haves to nice-to-haves in the mold of delivery pioneers like Domino's or Chipotle. Because third-party delivery services are expensive, part of that future planning includes testing native, self-delivery panels, which was the subject of the DIY Delivery session on the first day of Restaurant Finance Week. 
Moderated by Nicholas Upton, restaurants editor of Franchise Times and Food On Demand, the panelists included Sean Kennedy, CEO of Cowboy Chicken, Nick Scarpino, SVP of marketing and off-premise dining at Portillo's, and Scott Absher, founder and CEO of ShiftPixy.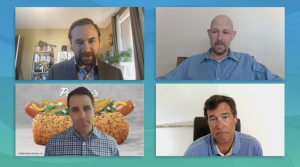 Upton started the panel off with some of the latest stats from the National Restaurant Association outlining the massive surge in delivery and online orders, "the entire restaurant industry is looking at delivery with a fresh set of eyes," he said. "There are a lot of reasons to look at native delivery … including margin protection and keeping control of the brand." 
Cowboy Chicken, which is a Texas-based premium fast-casual brand selling wood-fired chicken, Kennedy said creating an in-house delivery program accomplished two critical things for the company: building and maintaining a direct relationship with guests and improving delivery times for at-home consumers. Excluding catering operations, volume from in-house delivery and third-party delivery providers has grown to 20 percent of its total sales, which is a big increase from 12 percent pre-COVID. 
Portillo's, an upscale street food brand based in Illinois, echoed similar priorities, highlighting that a direct customer relationship is a critical milestone for the company, but something where seemingly small details have a huge impact on financials and operations. Like Cowboy Chicken, Portillo's has seen a similar surge in delivery sales, with some locations seeing as much as 40 percent of total volume between its in-house and third-party sales. Scarpino added that locations with drive-thrus skew the numbers, as so many orders are now coming through that channel. 
Scott Absher, of ShiftPixy, said what he calls a "broken" U.S. labor market is part of the reason so many brands are looking at a hybrid approach to balance third-party delivery providers with in-house solutions. Using the example of McDonald's, which is famously militant about protecting its brand through the decades, also means that restaurants thinking beyond the next quarterly earnings report should be moving now to ensure they maintain control of their customers and brand assets. 
"When you're seeing 20 and 30 percent go out the door, a lot of these QSR formats don't even make that kind of money on these orders, so we went back to the market with those types of suggestions, strategies and the technology to support it," Absher said. "Right about the time we were doing that, the pandemic hit, so it became a very interesting, elevated subject of conversation, obviously."
In Chicagoland, Portillo's previously had a fleet of catering delivery vehicles that were centrally managed, but found that structure didn't work in all of the brands markets outside of its home market. Having "taken the plunge" with third-party delivery four years ago, Portillo's has created a hybrid delivery approach where some orders were routed through DoorDash solely for fulfillment—meaning the restaurant pays a lower commission than orders originated from DoorDash—to improve the economics of its delivery program at a high level. 
Portillo's began doing its own deliveries this April at the height of the pandemic, which helps the company "still leverage the third-party delivery companies in a certain way" and start converting customers to order through more profitable, in-house channels, like its own app and website. 
"We have a partnership with DoorDash that we're really happy with. They take orders on our behalf for some of the lower volumes, because we have really high unit volumes, we can't necessarily keep up with that amount of volume, so it's a hybrid model and it's been working really well."
Cowboy Chicken takes a similar approach, with a dollar threshold that's unique to each restaurant for a given order, whether it will be delivered by a third-party or its own in-house drivers. 
"We have flexibility, but it's all in an effort to maximize how many deliveries we can do profitably and with excellence, but also still relying on the third parties to take some of those lower [dollar value[ orders that you get, so much more volume on that we couldn't really keep up," Kennedy added. 
For restaurants that are adding self delivery for the first time, ShiftPixy's Absher said part of the equation is developing the list of duties and scheduling flow for employees that might be delivering food at peak times, but also helping with side work, guest experience or food prep when they're back inside the restaurant. He added that insurance coverage for drivers is something many restaurants overlook, and is a cost ShiftPixy's native delivery platform passes onto consumers in the form of a $5 charge. 
Cowboy Chicken's Kennedy said their drivers are "part of our staff just like anybody else," but said that competition from companies like DoorDash and Uber Eats was an ongoing challenge. He said that the company has chosen to focus on their competitive strengths compared to the big delivery brands, including tips, culture and the ability to earn benefits, depending on how many hours they're working per week. 
"It's a challenge to hire them, but it's not really a challenge to keep them," Kennedy said. "We have turnover like everybody else does, but we're making it work. It's just like anything else, treat people well, become an employer of choice and you can find the talent that you need in order to run your business."
Looking beyond getting basic delivery capabilities in place, the panelists said the next challenge is trying to provide the frictionless, brand-appropriate and, at times, fun customer experience pioneered by Domino's is the next challenge. 
At Portillo's, that mindset includes clever or creative rhymes, like "You ordered a #7, here's some Portillo's heaven," which can be replicated for delivery customers in the form of its automated text messages throughout the actual delivery process. 
"It's a small, little thing, but it's important to us," Scarpino added. "We not only got the system in place, we're looking to add some of these on-brand experiences at the same time, reducing any sort of weird things that happen in the background that causes friction."
At Cowboy Chicken, that mindset has centered around reducing the number of clicks and secondary pages needed for a consumer to order a meal, especially their most recent or frequently ordered items that are prominently available for repeat customers. 
"I went through our process [and said] 'Oh my gosh, this is terrible," Kennedy said of their previous order process. "I was like, we gotta tear this down and build something new. I think that's what the guest wants. Hey, I'm in the mood for chicken, I'm going to click two buttons and it's going to be delivered to my door."
"Customers are creatures of habit, they don't experiment too much and the idea of keeping track of their preferences and keeping customer loyalty really allows you to get to that seamless, simple, elegant engagement with that customer," Absher said in closing. "You can always introduce things through your direct marketing to them … but to be able to make it so the last thing, the thing I got last time is a one-click experience and that does satisfy customers."