Wonder founder Marc Lore sees something in meal kits that has so far eluded the best known players in the category. After announcing his intent to purchase Blue Apron in October, Wonder Group officially closed the deal for $103 million, a far cry from its previous valuation of $2 billion.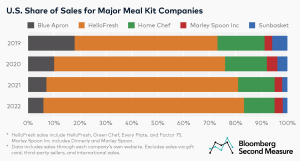 In a press release, the New York-based company said the acquisition will further enhance its creation of a "super app for mealtime, serving a broad range of dining occasions that feature cuisines from some of the world's best chefs and restaurants."
Wonder will now begin offering Blue Apron items to its customers in New York City and New Jersey, a key offering in the company's strategic roadmap that will expand the ways consumers can access and experience great tasting food.
This new deal comes on the heels of Nestle investing $100 million in Wonder earlier this month. Wonder previously raised $350 million through a Series B funding round led by Bain Capital in June of 2022. 
Earlier this year it announced a move away from its van-based business. In favor of a "fast-fine" model that creates a "scenario where we serve all 30 of our restaurants from a single, fixed space" that can be used for delivery, pick-up and limited dine-in business. 
According to the latest figures from Bloomberg Second Measure, Blue Apron's share of the U.S. meal kit space has declined from nearly 20 percent in 2019 to approximately 5 percent by the end of 2022. 
"Our mission at Wonder is to make great food more accessible, and the integration of Blue Apron onto our Wonder platform provides a major opportunity to double-down on that promise to our customers," said CEO Marc Lore. "As we continue to revolutionize the food industry through our creation of Fast Fine dining, we're excited to continue expanding on the ways we can offer unique and elevated dining experiences through more choice, flexibility and convenience."
"Empowering people to create incredible culinary experiences at home is a hallmark of Blue Apron," said Blue Apron president and CEO, Linda Findley. "Now, as part of the Wonder family, we are excited to expand the ways our customers access and experience our top-rated recipes and quality ingredients. Through faster, more convenient delivery options and greater menu choice, customers have even more ways to create incredible home meal moments anytime, anywhere."
Beginning this week, Blue Apron customers within Wonder delivery zones will have their subscription boxes delivered by Wonder couriers. This enhanced, direct delivery is provided to customers at no additional cost. 
Service to Blue Apron customers will continue as normal. Additionally, Wonder customers throughout New York and New Jersey now have access to Blue Apron on the Wonder app. This rotating offering of Meal Kits and Heat & Eat options are available starting this week at Wonder Upper West Side, Chelsea, downtown Brooklyn, Westfield and Hoboken, available for delivery or pickup.