Fortunes are diverging among the largest meal kit providers, Blue Apron and Hello Fresh, as the meal kit industry awaits the answer to the same question many are asking in the restaurant delivery space: what consumer habits will stick after the pandemic?
Since the start of 2021, shares of Blue Apron have declined from $6.15 to $4.30 at press time after its shares briefly passed the $10 mark in late January and early February. By contrast, shares of Hello Fresh have increased steadily from $78.68 at the start of the year to $97.83 at press time, much of that increase happening in the last month as the pandemic's headline numbers have quickly fallen.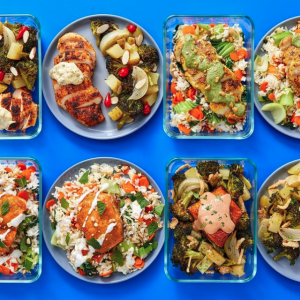 A recent article from Fortune on the meal kit industry sized up the current moment in time for the meal kit industry, suggesting that "change may be coming" after more than a year of lockdowns kept most Americans cooped up at home with restaurant dining rooms shuttered by choice or by government mandate. 
Stating the obvious, that "running a meal-kit company is expensive," Fortune's story noted that challenges ranging from low customer retention rates, to increasing supply chain, marketing and logistical costs have not disappeared even though the pandemic pushed more consumers to try meal kits for the first time. 
That COVID-driven sugar high included HelloFresh hitting its first U.S. profit in early 2020, and Blue Apron following suit in the second quarter of 2020 even as it struggled "to keep customers because there weren't enough workers to meet surging demand," according to the story. 
Of course, just like with restaurants with ghost kitchens and virtual restaurants, meal kit providers saw a range of new competitors appear during the pandemic, especially grocery stores that offered their own take-and-bake and cook-your-own options. In addition, many restaurants in the fine dining space began selling meal kits to customers as a way to experience elevated meals with a side of home-based entertainment. 
Some restaurants that went down this path have every incentive to continue offering meal kits even as their dining rooms reopen, as they proved to be an opportunity to add incremental volume that didn't flow through third-party delivery providers with their requisite commissions. 
Amid legacy grocery providers, Kroger has been one of the most innovative, purchasing the Home Chef meal kit brand three years ago in a nearly $700 million deal. In a recent presentation to analysts and investors, Kroger Chief Merchant and Marketing Officer Stuart Aitken said he expects the Home Chef brand "will be the next billion-dollar brand for Kroger" as it continues expanding its product range. 
Speaking to Fortune, Blue Apron CEO Linda Findley Kozlowski struck an upbeat tone about the future of her business even amid a rise in competitors. 
"(It) is actually a good thing because, frankly, if competitors don't come in, you don't have a market."