DoorDash has released its annual delivery trend report dubbed "The DoorDash Dish: 2019-2020 Trend Report," showing what U.S. delivery consumers are hungry for.
The report is built on the data from orders through the network and a survey of more than 1,200 DoorDash customers, with the goal of gleaning important food trends for this year and how consumers are approaching delivery.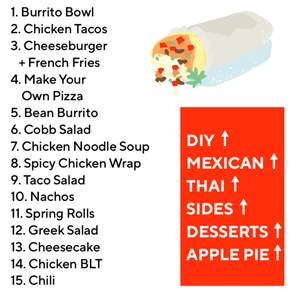 Drumroll please—this year's winner is burrito bowls. See the list to the right for the entire top 15. The big headline is delivery customers love Mexican food. In 2019, order volume for all things Mexican surged by 314 percent from 2018 levels.
Thai food surged as well, with DoorDash predicting the cuisine would be even stronger in 2020. The other strong growth categories tell the industry a lot about how consumers are changing how they utilize delivery, too. The No 1. condiment? Ranch dressing.
An increase in sides and desserts (notably apple pie) all mean consumers are going beyond a single entrée for orders. That has always been the case, but the incredible growth of customized orders shows how the delivery consumer experience is evolving as the platforms and restaurant partners evolve their own offerings and include more options for customization.
According to DoorDash, 96 percent of customers are making changes to their food in some way. New app functionality helps with this, but just as regular customers find their own favorites at restaurants, they're doing the same in delivery. Creating your own sushi rolls was one of the strongest custom growth categories, surging by 902 percent since 2018.
The strongest growers include apple pie, which exploded by 1,550 percent for some reason. Cream cheese Rangoon's also exploded with 1,360 percent growth for very obvious reasons (crispy fried cheese, duh). Also notable, tortilla soup jumped 1,130 percent, showing that delivery consumers aren't shying away from spill-happy foods as they may have in the past.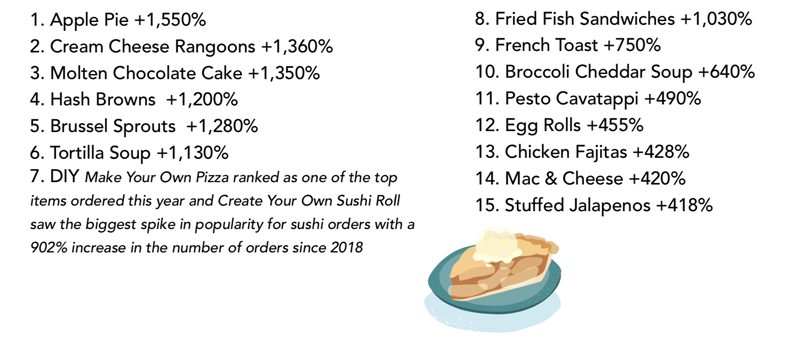 The consumer survey had a few notable results. One major validation of the belief that delivery orders are larger because of group orders was clear, the majority of consumers (53 percent) said they were eating with two or more people weekly. It also showed that dinner remains the predominant daypart for delivery; weekdays at 7 p.m. was the most popular time people ordered.
Check out the full report at DoorDash.