Bucking the common practice of large franchised restaurants forming exclusive partnerships with a single third-party delivery provider, Subway announced new agreements with four delivery providers, which could dramatically shift the economics of restaurant delivery in smaller markets across the United States. With more than 25,000 Subways operating in the U.S. and nearly 44,000 total, the Connecticut-based franchise giant is the world's largest restaurant chain by unit count.
Michael Lang, Subway's senior director of global convenience, said the brand first started experimenting with third-party delivery back in late 2016, which quickly expanded into a series of pilot programs that grew to include 700 restaurants in nine U.S. markets. After favorable results, Subway has aggressively doubled down with formal partnerships with DoorDash, Grubhub, Postmates and UberEats.
Asked why four delivery providers is better than one, Lang said "in order to get the geographic coverage we needed to support that franchisee network, we needed that combo of providers." He added that consumer groups have become increasingly loyal to individual providers, which brings marketing benefits to the ubiquitous sandwich brand.
"We want to be everywhere that consumers are looking to engage with Subway," he said. "It made sense that that sort of broader partnering was the right combination for us."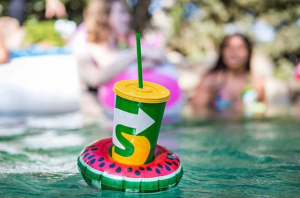 Restaurant industry studies show third-party delivery growing at more than 10 percent every year, and Lang said the company sees significant runway in the coming years. At this point, about 16,000 of Subways locations are within the delivery footprint of one of those four providers, and 9,000 are currently delivering sandwiches to customers. As the delivery brands continue expanding their networks, Subway expects significant expansion of its own, which will add thousands more of the brand's U.S. locations.
"The fact that we have locations in just about every place you can imagine makes us really interesting to those providers as a partner, because they need a certain level of volume and activity to make it worthwhile to go into some of those smaller markets," he added.
Rather than requiring all restaurants to partner with all four providers, Lang said Subway's franchisees are being encouraged to go at the pace they're comfortable with, and to work with whichever providers best suit their territory and customer base.
With some other prominent sandwich brands doing their own in-house delivery, especially arch rival Jimmy John's, Lang said these partnerships should allow Subway to be "the quickest delivery meal you can get for most people simply because we're that much closer in proximity to more of the population."
Beyond the additional sales for individual locations, Subway has found that added delivery has added significant volume for its restaurants outside of the lunch rush, which is by far the brand's strongest daypart.