With fewer drive-thrus than some of its prime competitors, Subway has leaned hard on a third-party delivery strategy that is helping the mega-brand—with $16.2 billion in annual systemwide sales—post weekly sales gains after a year's worth of work to roll out and integrate the four largest third-party delivery platforms into its corporate and in-store systems.
Calling the brand's efforts to keep their stores open and respond to the pandemic a grassroots effort, Subway's Aidan Hay, vice president of operations for North America, is one part of a refreshed leadership team that's guiding the brand through an international recovery effort. The objective is to create a new normal within an industry that's most likely forever changed compared to the pre-COVID days.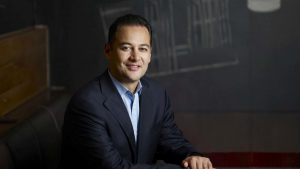 "We are bouncing back strong [and] we have had some really good couple of weeks—we're optimistic" Hay said of the brand's pandemic response. "We've pretty much matched the rest of the industry for the QSR category … 40-50 percent down on last year, but as we come out of it, we're seeing some of those numbers improve double digit week by week, and in some cases, we've actually seen stores reaching 100 percent index on last year, so fully recovered."
As Hay described it, much of what's working well for the sandwich franchise is a result of the company's decision back in late 2018 to forge national partnerships with all four of the large U.S. third-party delivery brands. Rather than exclusivity with one provider, Subway elected to work with each of the large delivery brands to cover its massive network of restaurants, which includes approximately 25,000 locations in the U.S.
We are seeing third-party delivery literally grow week on, week out; it is exploding," Hay added. "As we're coming out of COVID, our loyalty-app users are growing, third-party delivery-app users are growing, so all these convenience categories, [like] remote ordering and in-store pickup are growing and definitely becoming critically important for us."
For a brand with so many locations, Hay said sharing real-time data and key performance indicators is vital for a successful delivery partnership, which allows the brand to quickly make changes in response to customer-ordering trends and individual store sales numbers, which he said means giving the store owners and corporate execs the "ability to solve for continuous improvement."
Subway has also worked with its national delivery providers on guest incentives and free delivery promotions, including an effort with Postmates to support nurses and other healthcare workers.
Efforts over the last six to nine months included integrating delivery transactions into its internal systems for a variety of benefits, including less labor and fewer opportunities for human errors, which is close to being fully rolled out to its individual locations. The company has also worked to quickly roll out a curbside pickup option, with plans for a longer-term curbside strategy that will include geofencing technology to alert the store when pickup customers have arrived to collect their orders.
While much work remains as leadership looks for additional ways to remove customer contact points once dining rooms open up, Hay said previous investments are bearing fruit as the brand's sales begin to recover from the drops seen at the start of the pandemic.
With a brand experience that included waiting in line during peak periods and using a communal soda fountain, Subway is looking at everything from giving customers new cups for refills all the way down to touchless bathroom doors. As physical store changes take time, management is looking at both artificial intelligence and robotics to make the in-store experience entirely touchless in the near future.
"We're looking at design and interface to simplify that guest experience where you don't need to touch a soda dispenser machine and that sort of thing," Hay said. "People don't want to wait in line, they want to come in, grab something and leave."
In the b2b side of the restaurant world, Subway has also made news as it brings back 2-for-$10 footlong sub deals, which have upset many Subway franchisees in the past, according to various news reports. While it's not the first time that limited-time offers have caused a stir between the brand and its franchisees, many restaurant brands have funneled delivery-specific offers to consumers to drive foot traffic.
Hay added that the company is open to ghost kitchens, which he said could be especially fruitful for the catering side of the business, which he wrapped in with the brand's current exercise of reevaluating its entire operation in response to a reshaped world.
"COVID has created a moment in time where you have to evaluate everything you are doing," he added. "We're looking at all different aspects, but ultimately it's about great product quality. It's gotta be fresh and it's gotta be better for you—we can't move away from what got us here.