This story originally appeared in Food On Demand's sister publication, Foodservice News, which covers the Minnesota restaurant scene. 
Gerard Klass, co-founder of Soul Bowl in Minneapolis, is arguably sitting on more big ideas than any other chef in town, and he's well versed in how trends toward off-premises dining can fuel his plans to grow a multi-concept empire. Having just launched a delivery- and takeout-only wings concept, Klass is taxiing the runway before opening additional locations with and without traditional dining rooms. 
"In difficult times, we're going to find ourselves serving others," Klass said of staying motivated through a difficult nine-months that have tested his growth plans. "Me and my wife Brittney are blessed to have corporate restaurant experience, I've learned as much from the restaurants that opened as the ones that closed, so if it got down to a hot dog stand and it was me and her, we probably would have a much smaller menu, but we still would try to stick it out."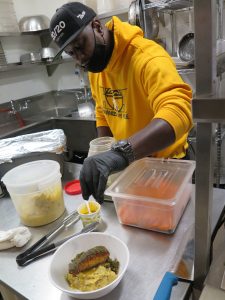 One year into a lease inside the flashy Graze Provisions + Libations food hall that temporarily shut down due to a COVID exposure over the summer, the husband-and-wife team is once again staffing up as it rolls out a seasonal menu and gets its new B.A.D. Wingz off-shoot up and running while scouring real estate listings for additional locations and future concepts. 
Even though nothing about 2020 has been easy or gone according to the Klass' carefully drawn plans, they still see a long runway on the horizon and it's time for liftoff—pandemic be damned. 
Gerard said his Soul Bowl concept is "our game horse, this is our best idea," and his dream is to take a page or two from Chipotle playbook to expand the concept outside of its Minnesota home turf. The formula is simple on paper: two parts Southern-style soul food and one part Caribbean influence, all seen through a hip hop filter to connect with a younger demographic that may have never seen Soul Train, but definitely knows Kobe, Lauryn Hill and rapper Big K.R.I.T.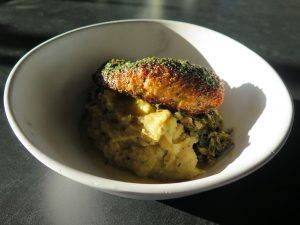 Guests can pick a base of cauliflower mash, yellow rice, "Return of the Mack & Cheese", veggies or traditional mac and cheese, and then add their chosen veggies, meats, and sides or sweets. The real action is found on the signature menu, called Klassics, which includes F.U.B.U fried chicken and waffles, jerk chicken, plantains and yellow rice in the Caribe Bowl or the A.A. Sandwich with mac and cheese, fried chicken, MPLS Mambo Sauce on a cornbread bun. 
In a city that's nearly 20 percent African American, it's shocking that fried green tomatoes, sweet potato pie, collard greens and candied yams remain such an outlier. Soul Bowl is expressly designed to change that mindset, with a touch of Caribbean influence owing to Gerard's Guyanese heritage.
"We weren't exactly starting from scratch," Klass said of Soul Bowl's beginnings that developed through a series of Klassics Pop-Up Series events in the city. "We had to completely change our business model about six months into being in the building, so that was difficult, but for us, it's been character building." 
Building that character included unexpectedly hard times, like the mid-summer shutdown of Graze and paring their staff down to a skeleton. Going from 25 employees to eight, including the founders, meant looking at what employees had two jobs versus those who relied on Soul Bowl as their primary source of income. 
Through its Food For Your Soul campaign designed to feed the "inner-city community," the company was able to deliver soul food to needy people all over the city, with a portion of donations going toward its staff. It was so successful that, by the end of April, they were already bringing back employees.
Hard times also meant looking closer at costs, something they both picked up through corporate dining experience, with the assumption that the majority of their food would be leaving in the hands of a delivery driver—meaning profit margins were more challenging than ever. 
With delivery suddenly the majority of business, Soul Bowl began working with ChowNow to supplement its DoorDash volume. Gerard said that ChowNow charging restaurants no commission was a game-changer that helped the company survive the worst of the pandemic. 
That strategy has included limiting what portion of the menu makes it onto third-party delivery menus, and designing future menu items with an even closer look at every cent to make sure that delivery volume doesn't come at the expense of profits. 
Amid everything, the duo opened their second concept, B.A.D. Wingz inside Glam Doll donuts in the hot Northeast neighborhood across the Mississippi River from downtown Minneapolis. Designed from the get-go as another opportunity to bring outside flavors to the city, the concept also is delivery friendly by design, both in terms of how the food travels, as well as the profit margins. 
"I wouldn't change what we've had to go through," Gerard said. "It's given us an opportunity to really show who we are, what our principles are, what we stand for, and it's also given the African American community an opportunity to have a spot in the North Loop that feels like their own, that they can come and enjoy and it doesn't feel like this is too stuffy or we're out of place. Everything that happened gave us visibility that we may not have gotten in a different part of the city."
It won't be the last big idea from the Klasses, and Gerard said to look for clues in future pop-up events he's already planning. As a gauge of that tenacity, he's already searching for future real estate in both core cities, and considering bringing Soul Bowl to Chicago. 
"When I left corporate I was managing five or six restaurants at about $30 million a year, so my goal is always to be able to exceed that one day with my own brand," Gerard said. "I try to really embrace that Minneapolis is a good place to test our brand and give us a good, diverse base to be able to grow."