Five Guys, Jack in the Box and 7-Eleven are very different brands with unique products, storefronts and footprints, but they occupy common ground in their need to work with franchisees to rethink their operations as delivery and off-premises operations become a bigger part of their sales volumes. Each brand delved into their strategies and the rationale behind them during a panel moderated by Franchise Times Editor Laura Michaels at this year's Food On Demand Conference.
With 300 stores and private family ownership, Five Guys is the most cautious member of the panel, as its ownership team is especially focused on protecting the brand, maintaining the company's culture and keeping the focus on its existing four-wall formats.
"We're big on protecting the brand," Five Guys VP of Operations Ralph Ortiz said of its approach to off-premises channels in general. "If it meets those criteria, we have great synergies … and we get it and see if it's going to move Five Guys forward and provide a fantastic experience to our customers."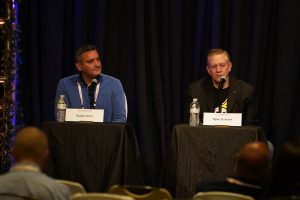 Ryan Ostrom, chief marketing officer at Jack in the Box, said that being such a late-night brand with a majority of locations open 24 hours a day, Jack is able to consider a wide range of foods and products to serve its customers, noting that off-premises is one of its fastest growing channels at present.
As the largest U.S.-based franchise by unit count, with more than 72,000 locations across the globe, 7-Eleven is an outlier for several reasons, but it's using its vast real estate footprint and popular in-house brands to experiment with a variety of real estate formats in recent years.
"Our core business generally is a commute business, so you have the habitual patterns of the morning commute, and it's been disrupted a bit over the last 24 months … but the customer was already pivoting and changing," said John Powell, 7-Eleven's director of delivery strategy and partnerships. Speaking of delivery in particular, he added that "the demand flow is actually very complementary to our in-store traffic."
Powell said that maintaining a "continual feedback loop" with franchisees has been the key to learning the "good, bad and ugly" about what's happening at the store level, including with new programs that are focused on expanding the convenience giant's reach into new categories and geographies.
At Five Guys, its more reserved approach to the delivery revolution has recently focused on beefing up the lulls between the lunch and dinnertime dayparts. That has included a rigorous vetting process that includes soliciting ideas from its franchisee network, but also partnering with delivery service providers large and small to gain everyone's feedback on how the burger brand can bring in net-new customers and add volume outside of traditional peak dining periods.
Asked by Michaels to give an example of franchisee pushback, Ostrom said "we always get pushback from franchisees" especially now that labor and supply chain issues have become so prevalent in the QSR side of the restaurant business.
"We could talk for six hours on how to maintain those restaurants," he said. "Now we have delivery, and how do you make sure what people are ordering is what you have in your supply in your stores [and] how do you modernize these processes and technologies to create that seamless relationship between the guest and the store."
Ostrom added that evolving into more of a tech-enabled business has also included ongoing investments, which has required getting franchisee buy-in for ongoing investments that he said can be "like paying for a whole separate store on top of your store."
With digital sales swelling to as much as 25 percent of Jack in the Box sales in some cases, Ostrom said that the company is redesigning stores and rolling out new prototypes for different situations, as well as a ghost kitchen partnership with Reef that will allow the brand to move east of the Mississippi River with far less capital expenditure than building traditional brick-and-mortar stores.
At 7-Eleven, with more than half of the U.S. population already within 2 miles of one of its stores, its recent acquisition of the Midwestern brand Speedway will further expand its geographic reach. In addition, its in-store restaurant brands like Laredo Taco and Raise the Roost are additional opportunities to reach new customers and expand into ghost kitchens as a mway of "load balancing" existing locations.
In addition, the convenience brand's Evolution test stores are an opportunity to try entirely new ideas, and then bring some of those best practices into new store build-outs across the country.
While Five Guys is "not doing anything virtually" and has tested ghost kitchens domestically and internationally "with mixed results," Ortiz said its focus is on expanding its digital footprint, and finding new ways to make it easy for customers to orders, while also capturing customer data that can be used in other areas, including catering, which is currently an area of significant at the brand.
By comparison, Jack in the Box has been more willing to make big changes and take the focus away from its in-store dining rooms.
"I'm not sure we need in-store dining anymore … that changes how you design a kitchen and how you design the layout and it means a smaller box and different solutions," he said.
Powell struck a similar note, saying that 7-Eleven shoppers will be seeing "some reorientation of physical infrastructure" that will make it easier for drivers to pick up orders, aside from its shifting products and prepared food mix.
"I believe the multi-stop dynamic and batching and chaining [of orders] is something that will be a constant," he said. "That's going to be a part of the dynamics of delivery and I don't think that part is going away."