As restaurants face uncertain and challenging times this winter, Grubhub has introduced a new package of marketing commission-free solutions to make it easier for restaurants to do online ordering through their own digital channels or on-premises properties.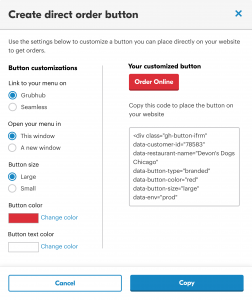 In a press release announcing the news, Grubhub said these new solutions "build upon the hundreds of millions of dollars we've devoted since March to restaurant support and demand generation" giving restaurants more ways to fulfill delivery orders. 
This new package—Grubhub's Direct Order Toolkit—gives restaurants free access to three solutions to help them drive online orders without any marketing fees:
Direct Order Link:

An ordering link for restaurants to use in their email marketing or to post on their social media accounts

Direct Order Button:

A customizable "Order Now" button for restaurants to put on their own websites

Direct Order QR Code:

A unique QR code for restaurants to include in printed materials like mailers or signs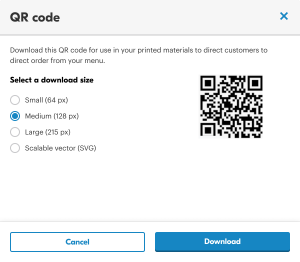 Grubhub does not charge any marketing fees to restaurants on these orders—just an order processing fee, which the restaurant would face regardless for credit card processing, and a delivery fee if the restaurant wants to use Grubhub drivers for delivery. 
"It's never been more important than right now for Grubhub to find and develop ways for our independent restaurant partners to serve their customers and drive online orders," said Seth Priebatsch, Grubhub's chief revenue officer. "The Direct Order Toolkit delivers on that commitment and makes it easy for restaurant owners to offer takeout and delivery on their own channels by adding these commission-free online ordering capabilities."
The Direct Order Toolkit is available to restaurants directly on their Grubhub for Restaurants Dashboard.