Editor's note: Restaurant Deep Dive is a new, recurring Food On Demand segment featuring local restaurants across the country and their relationship with delivery and takeout. 
Sitting at a coffee house, husband and wife Jasha Johnston and Carrie McCabe-Johnston, gazed at a vacant convenience store across the street, brewing up ideas for a future restaurant.
The vision became a reality about 10 years ago when the duo turned that building into Nightingale—an elegant, upscale restaurant on Lyndale Ave. just south of downtown Minneapolis.
Dimly lit, with New Orleans-inspired dark blue booths, a rustic red oak floor and brick walls lined with local art, the ambience boasts an inviting, warm retreat.
"It's so cozy in here," said Carrie. "I love the way the restaurant feels in the winter."
Head chef Carrie is the creative force behind the comfort-curated menu, while Jasha presides over the array of craft cocktails in the full bar. The perfect spot for a date night or group o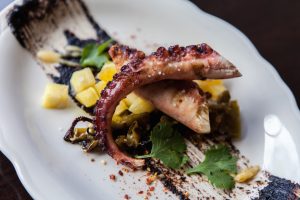 uting, the restaurant offers small and large plates with various options for a casual or more elevated dining experience.
The cuisine features permanent fan favorites like the steak tartar with celery root, lemon aioli, and homemade bread, the Nightingale Burger with herb aioli, and meat, cheese and pickle plates. Diners can always expect a variety of seafood, from grilled octopus with pickled shishitos and pineapple to scallops on a bed of almond gazpacho.
In addition, the menu lists rotating items based on seasonality. Fall's menu included an autumn salad with first kiss apples, fennel, squash, pecorino romano, walnuts, and shiso.
"We use as many local ingredients as we can find and change about half the menu six times a year, letting seasons inspire and dictate the format," said Carrie.
A further peruse of the menu finds snacks like mushroom bruschetta topped with sunny side quail eggs—small plates of chicken wings in ginger and tamari sauce and large plates of pan-roasted hanger steak, to name a few.
When not on the line, Carrie can be found pickling and fermenting. "I have cashews fermenting right now that I'm going to use in a mushroom and nut pate, and I'm going to experiment with fermented black radish as a garnish, so we always have something in the works."
Takeout and delivery
With the intention for off-premises guests to have an experience that is "equal to the food, equal to the drink, equal to the service and equal to the space" it's no surprise the takeout/delivery aspect is a "small portion of our business" according to Carrie.
However, the restaurant does offer delivery on its website via a simple online ordering process through ChowNow—a system that lets restaurants build their own ordering systems. Nightingale began using ChowNow mid-2020, during the pandemic, when takeout/delivery became a must-have for restaurant operators.
ChowNow takes commission-free orders for in-store pickup and curbside delivery through their websites and ChowNow-built mobile ordering apps. The system also connects restaurants' online ordering to their profiles on sites like Google, TripAdvisor and Instagram.
Getting Creative
Adding that their fine-dining food is not designed to travel well, Carrie notes getting creative with foods during the in-person dining hiatus.
"We had a fried broccoli dish that we did some experimenting with the batter to determine whether it could still be crispy when it got to someone's house," said Carrie. "So that was kind of fun, the challenges of dealing with to-go packaging."
The innovation continued that year when the couple turned the dry storage in Nightingale's basement into a small functioning prep kitchen and launched Lake City Sandwiches as an in-house virtual restaurant.
Inspired by a trip to Florence, Italy, the menu offered 12 different focaccia sandwiches, soups and a couple of salads.
"I think it was a huge pivot by Carrie," said Jasha. "To be able to adapt and totally change directions and go from an upscale kitchen to a sandwich place that kept us relevant and functioning and gave people some work."
The pair donated 50 cents to a different community charity for every sandwich sold.
"We are pretty rooted in this neighborhood, so it gave us another way to be community focused during that time," said Carrie.
The project was short-lived when doors reopened and their hands were tied as Nightingale was soon back at full capacity. Since then, the restaurant has continued to fill tables, with 2022 marking its most successful financial year yet.
"It's pretty incredible that after 2020 and 2021, we came out so strong," said Carrie.
"I think that overall, people have a newfound respect for restaurants and are just very happy and appreciative of the ones that made it through the pandemic," said Jasha.
Carrie and Jasha also own a few casual spots in the area including Dusty's Bar, Mortimer's Bar, and Tilt Pinball Bar—a unique taco and hot dog joint featuring vintage pinball machines. As a result of financial success with Nightingale and their many entrepreneurial endeavors, the pair plans to expand the Tilt location into a larger space in the near future.