Uber Technologies has partnered with Cartken to bring automated deliveries to Miami. Starting today, Uber and Cartken will begin operating with select merchants in the Dadeland area of Miami-Dade County with plans to expand in Miami-Dade and to additional cities in 2023.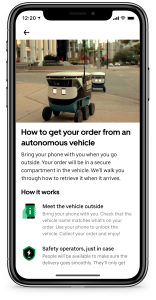 Cartken's AI-powered sidewalk delivery robots currently are used for neighborhood food and grocery delivery, campus meal delivery and curbside pickup across the country. Uber Eats will be its first formal partnership with a global on-demand delivery app beyond college campuses.
"We are excited about how this partnership with Uber will bring the advantages of robotics to food delivery—and ultimately create more connected communities," said Christian Bersch, co-founder and CEO at Cartken. "Together, we have the opportunity to reduce traffic congestion, help local merchants to increase delivery capacity, and bring consumers fast, convenient, and emission-free deliveries."
Uber's partnership with Cartken is an expansion of the company's efforts to use automated and autonomous technology to unlock greater innovation for consumers and merchant partners in Miami and Beyond.
"Miami is a thriving Uber Eats market and we are excited to bring its residents a little more Uber magic through sidewalk robot delivery," said Noah Zych, global head of autonomous mobility and delivery at Uber. "Our partnership with Cartken marks another important milestone for our efforts in automated and autonomous technology and will provide greater reliability and affordability to Miami merchants and consumers."